Mango Citronel
Its an easy and yummy mango desert, that I have created combining mango in different ways and layering it! It's refreshing and tasty and enjoyed by all age groups! #MyMangoRecipe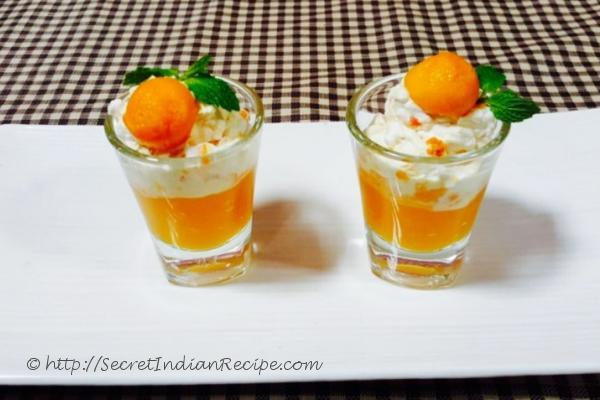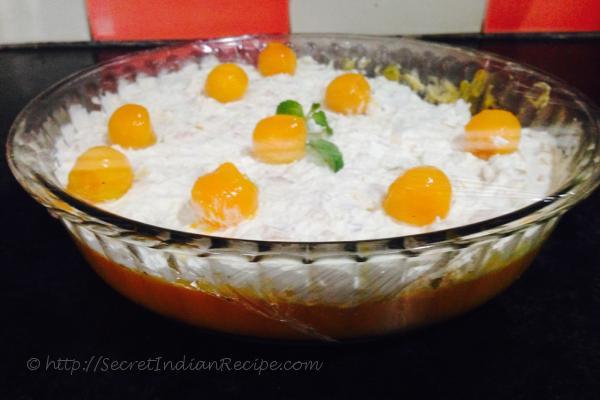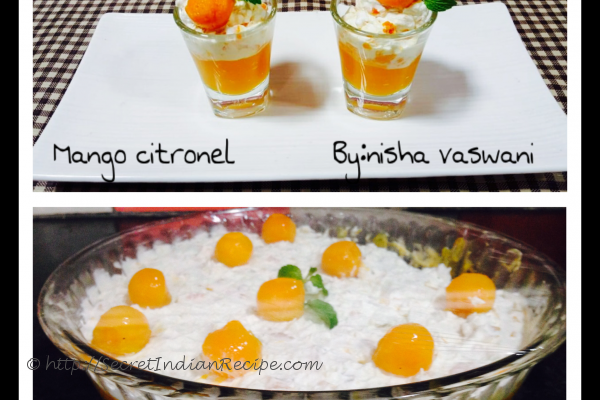 Ingredients:
5 cups mango juice or maaza
4tsp gelatine- dissolved in 1/4cup water
1tsp vanilla essence (optional)
1/2cup Custard powder
4tsp Sugar or to taste
1tsp unsalted Butter
|| For mango cream||
250gm (3-4cups) whipped Cream
1 mango chopped
1//2 cup white Chocolate chopped or white choco chips
To garnish- Mango balls, fresh mint nd few white chocolate chips
Directions:
Soak gelatine in micro proof bowl.
Dissolve custard powder in 1 cup mango juice and keep aside.
Boil remaining juice with sugar. Add custard paste, stirring continuously till thick and jelly like. Remove from fire.
Microwave gelatine for 10seconds. Stir and micro again for 5-10seconds. Stir to dissolve well.
Mix hot gelatine to hot mango jelly. Cool jelly
Put a very thick layer of mango jelly on a dish or in a small shot glass for individual serving. keep mango jelly in fridge to set.
For mango cream- in a bowl take whipped cream , mix chopped mango, vanilla essence and white choco chips.
Layer mango cream on mango jelly. If making in shot glass carefully layer with the help of a tsp, push 1tsp of mango cream on jelly and similarly another tsp of cream on jelly.
Garnish with white choco chips, mango balls (take out with the help of scooper) and a mint sprig, serve chill.
Footnotes:
tastes best if made with alphanso!