Mango ( Cottage Cheese In Ripe Mango And Curd Gravy)
Paneer is a fresh cheese and very famous across the globe to prepare a lot of great delicacies. Paneer is rich in carbohydrates, vitamin and protein and helps to create some great mouth-watering dishes. On the other hand, Mango is a tropical fruit, popularly known as 'King of Fruits', mainly available during summer season, and favourite among people from all the age groups. Mangoes are widely used in different cuisines and desserts. Mango has also various types of vitamins and minerals, and makes it a very healthy fruit as well.
In this preparation, we are going to use ripe mangoes and paneer together to create a mildly sweet side dish that can be taken with Butter Naan, Paratha or Peas Pulao or Jeera Rice.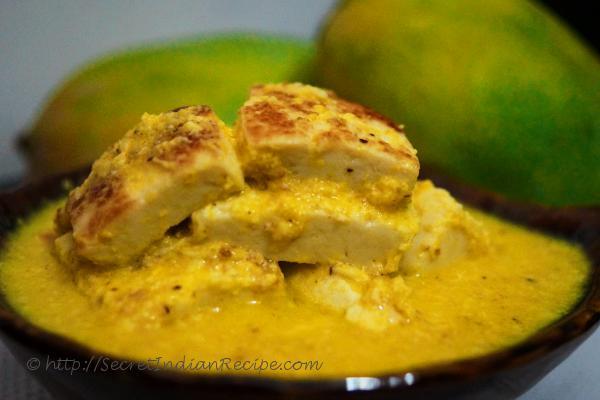 Ingredients:
250 grams of Block of Paneer
1 full ripe Mango of atleast 250 grams
4 tablespoon of Curd
3 tablespoon of grated Coconut
1 teaspoon of grated Ginger
1 medium size Bay Leaf
1 Cinnamon Stick
2 whole Red chillies
1 teaspoon of Mustard Seed
3 tablespoon of White Oil
1 teaspoon of Cumin powder
1 tablespoon of Sugar
Salt as per taste
Water
2 Green Chillies for garnishing
Directions:
First, cut 250 grams of Paneer in 10 – 12 large pieces.
Take the ripe Mango, and take out the Mango pulp from it. Add the pulp in a blender and add Curd in it. Make a smooth paste out of it.
Take a flat pan with lid and set it in medium heat, and add 1 tablespoon of oil. Then add the Paneer pieces and spread a pinch of salt over it. Sauté the Paneer pieces for 2 minutes over medium flame. Lot of juices will start to come out from paneer pieces and the outer crust will start to change color in red or brown. Take out the Paneer pieces and keep it aside.
Now add 2 tablespoon of white oil on the same pan, and when oil is getting heated, add Bay Leaf, Cinnamon Stick and Whole Chillies in it and stir fry for 30 seconds or till the smell started to come out.
Now add Mustard Seed in it till they started to crackle. Add grated Ginger and stir continuously for another 1 minute overmedium flame. Add the grated Coconut and mix it well with all the other ingredients and stir fry for another 2 minutes, or till the grated coconut started to change the color in brown.
Now add the Paneer pieces in it and mix well. Now add 1 / 2 cup of water in it and close the lid. Let it cook for 3-4 minutes. Next, add the smooth paste of ripe Mango Pulp and Curd in the pan and mix it well. Add Cumin powder in it, and cook it for another minute in low flame.
Finally, add Sugar and Salt and cook it for another 3 minutes. If required, add some water. The gravy should be thick in nature and the color of it should be golden yellow.
The Mango Paneer is ready to serve. Take a white colored deep bowl, and pour it in the bowl.
To garnish, take Green Chillies, and slit vertically from the middle and place it at the top.
Footnotes:
One can use less amount of oil as well, because a lot of Oil will ooze out from Paneer itself.
Use fully Ripe Mango only, else the desired effect will not come The dish should be mildly sweeter. It should not be spicy and hot. Use more Sugar if required, especially if the curd is sour, then you may need to use a bit of salt and sugar to make it perfect.