Mango Custard Biscuit Sponge Cake Pudding
A tasty twist to the mango custard and biscuit pudding.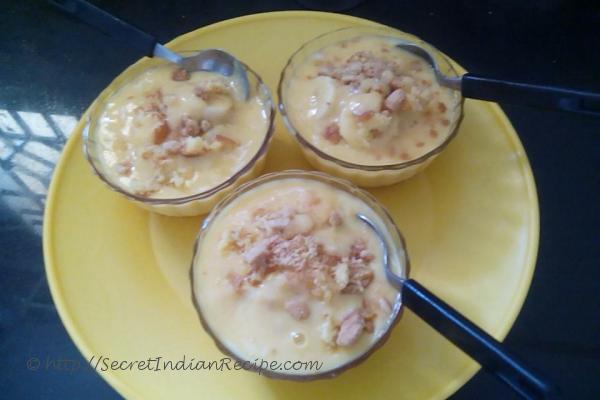 Ingredients:
Ripe mangoes- 2-3
Custard powder- 1-2 table spoons
Milk- 250 ml
Sugar- 100-150gms
Biscuit-(MOM"s magic) - 12
Ripe banana (cut into slices) - 1 cup
Sponge cake- 100 gms
Directions:
Peel the skin of the mangoes and remove the pulp and grind it into a smooth paste.
Take a bowl and heat the milk ( Keep aside 1 cup of milk) by adding custard powder and sugar. Keep the flame low and stir it continuously until the mixture thickens without any lumps.
Pour the contents into a shallow bowl to let it cool. Then add the mango pulp and mix well.
Take remaining milk in a bowl and dip the biscuits one by one.
Take the serving bowls, dip one biscuit in the milk and place it in the bowl. Then pour a layer of mango custard, then repeat the same procedure again, then add a slice of sponge cake and pour a layer of mango custard on to it. Then finally place the slices of banana and pour a layer of mango custard.
Finally garnish with crumbs of biscuits and sponge cake. Place the pudding in the freezer for 1-2 hours to set. Serve chilled.
Footnotes:
A tasty surprise for one and all..