Mango Delight
#MyMangoRecipe
Mango Delight is one of the delicious desserts enjoyed during the summer . Prepared from the fresh seasonal mangoes this dessert is very yummy and easy to prepare.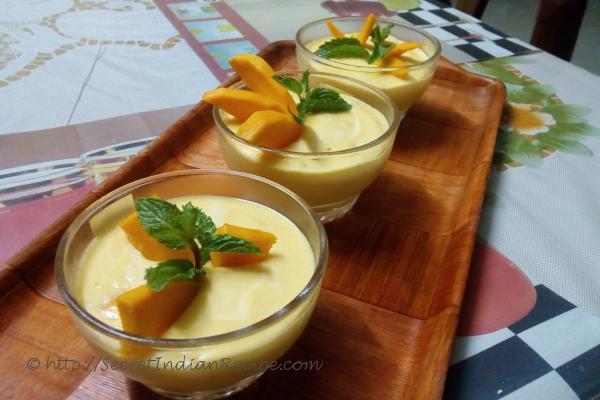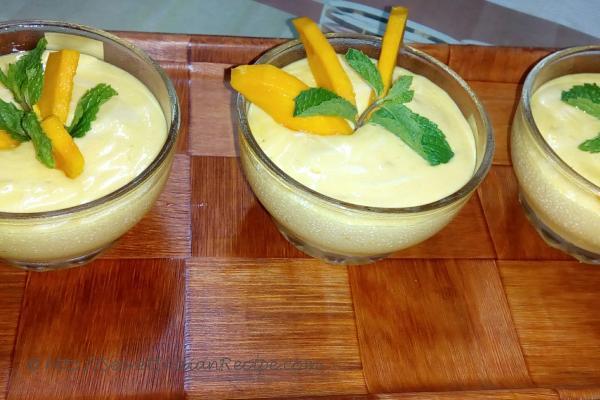 Ingredients:
1 cup Mango Pulp (prepared from fresh mangoes)
200 ml Amul cream
2 Tbsp powdered Sugar
1 cup Milk
2 Tsp Cornflour
4 Tbsp Warm Water
Mango slices and Pudina(Mint) leaves for garnishing
Directions:
Take one deep bowl and add Amul cream and powdered sugar, blend it in a hand blender. Make a smooth cream and keep aside.
Heat half cup milk in a bowl and add cornflour in another half cup milk. Mix well and add it to the hot milk and keep stirring until thick. Keep aside for cooling.
Take a deep bowl add mango pulp and blend it to a smooth paste.
Add the cornflour paste in the blender and blend it by adding warm water.
Make a smooth and creamy paste out of it.
Add mango paste, cornflour paste to the cream mixture. Cut and fold light handedly with help of a wooden spatula.
Take small dessert bowls pour the mixture in them and refrigerate them for at least two hours.
Decorate with mango slices and mint leaves and serve.