Mango Fruit Juice
I like this recipe becoz I love mango, this recipe belongs to my mom she is good cook and her recipes are excellent and traditional, I am sharing mango juicy frooti recipe which remind me my childhood days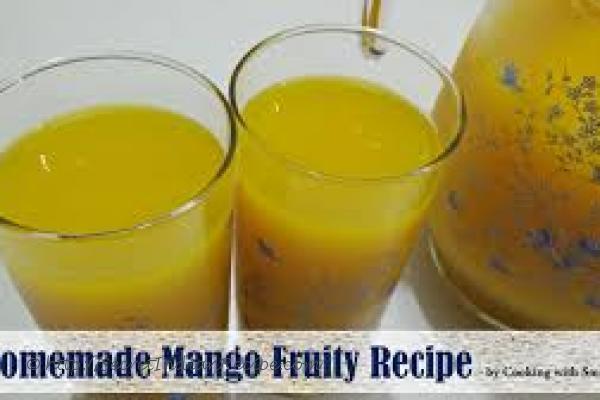 Ingredients:
2 good quality Ripe Mangoes
1 good quality Raw Mango
1cup Sugar
1cup Water
Some pieces of Ice
Directions:
Peel the ripe and raw mangoes separately.
After peeling skin we will pressure cook both Ripe mangoes and raw mango together till 3to 4 vessel.
Take a panand add sugar and water together. Boil it to make a thick sugar syrup. Let it cool.
Mash boiled mangoes in a food processer to get mango pulp.
Now mix mango pulp and sugar syrup properly, and will store in glass jar. Mango fruit juice is ready.
Take 1 serving glass pour some our mango fruit juice add some ice cube and chilled water. Stir with spoon and serve it chilled.
Footnotes:
When you pressure cook ripe mangoes and raw mango add 2 cups of water.