Mango Halwa / Alphonso Flavored Semolina Pudding
Suji halwa needs no introduction and hardly any festival in India is complete without this humble delicacy. Addition of fruit pulp or puree give a distinct fruity flavor and aroma to the sheera or kesari.
My mom adds ripe banana to her narayani sheera, which she makes for Satyanarayan Katha. After successful attempts of adding pineapple and orange to my kesari, this time it was the turn of my favourite Alphonso and trust me it did not disappoint me. The addition of Alphonso mango puree in the suji halwa, made it flavourful and added Saffron complimented it very well. Mixed nuts add nice crunch to the pudding.
So if you love both mango and suji halwa..do try your hands with this Mango Halwa :)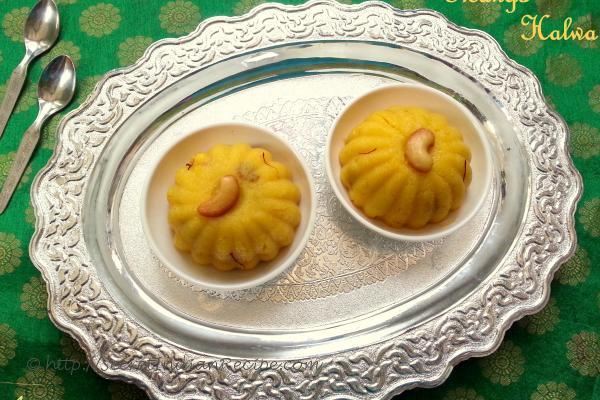 Ingredients:
1/2 cup Suji
1/2 cup mango puree (i have used fresh Alphonso pulp)
5-6 tbsp Sugar or as per taste and sweetness of mango used
2-3 tbsp Ghee / clarified Butter ( i have used Cow ghee )
5-7 Cashew nuts
2-3 tbsp of Raisins
2 tsp Milk to soak Saffron
Few strands of Saffron
1/4 tsp of Cardamom powder
Directions:
Soak the Saffron strands in 2 tsp of warm milk. In a sauce pan heat 1 cup water , to it add the sugar and allow the mixture to cook until sugar melts completely. You can use a microwave instead for this.
In another non stick pan , heat up 2-3 tbsp of ghee on a low to medium flame. To this add the raisins and Cashew nuts and fry until the Cashews turn golden pink in color.
Add Suji to it and roast it on a low flame until aromatic and pink in color. To this add the boiling hot sugar syrup and keep stirring to avoid lumps.
Cook the mixture until it thickens. The suji will absorb all the water and swell , at this stage add the mango puree and mix well. Cook the mixture again until all the mango puree blends well in the suji .
At the end flavor the mango halwa with saffron milk and cardamom powder. Mix well and keep stirring until all the milk is absorbed and the halwa leaves the sides of the pan. Put off the flame.
Serve the delicious mango halwa warm and enjoy with your loved ones !
Footnotes:
Store bought Alphonso pulp can be used if fresh one is not available. The recipe can be easily doubled.