Mango Kulfi
#MangoRecipe..#mangokulfi
Mango kulfi is fusion of traditional kulfi..This is really yummy and easy recipe enriched with dry fruits and nuts..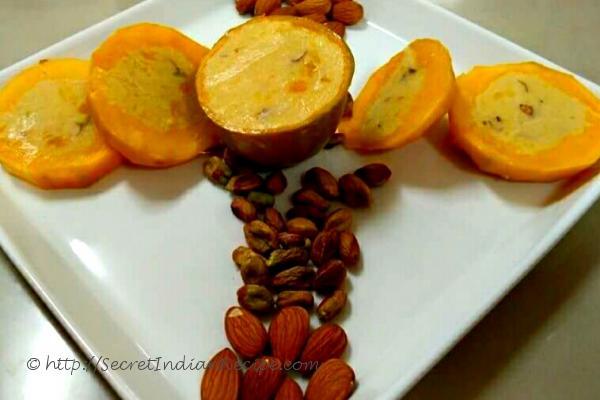 Ingredients:
1/2 cup mango puree prefer alphanso
2-3 Alphonso mango
500 ml full fat milk
1 cup sugar or condensed milk your choice
1/4 cup chopped mix dry nuts like cashews almonds and pistachios
12-15 kesar strands soaked in 2 tbsp warm milk
1 tsp cardamom powder
Directions:
Cut all Alphonso from up side in round shape scoop it out carefully..Don't throw the upper cover we use it later..
Heat milk in pan add kesar all chopped nuts add condensed milk as per your sweetness.. Reduce milk as half in quantity..
When it become half in quantity add mango puree mix it well..boil it another 2 minutes.switch off the flame..Let it cool..
When it cool completely pour it carefully in Alphonso seedless mango .And cover it..Keep it in freezer for at least 5-6 hours to set..
When Icecream ready keep mango out splash water by hands over it..And keep out peel by peeler and cut it in rings .Or serve as you want..
Tadaad your mango kulfi ready..Garnish it with almonds and pistachios .
Footnotes:
Carefully pour ready kulfi mixture in mango mould and keep them in glasses to set. Sugar level adjust as per your taste.