Mango Lassi French Toast Sandwich
I made French toast sandwiches with Italian bread and cream cheese. Then soak the sandwich in my mango lassi. To make them more flavorful and tastier, cook the French sandwich in coconut oil. For finishing, top it with sweetened coconut flakes and fresh mango.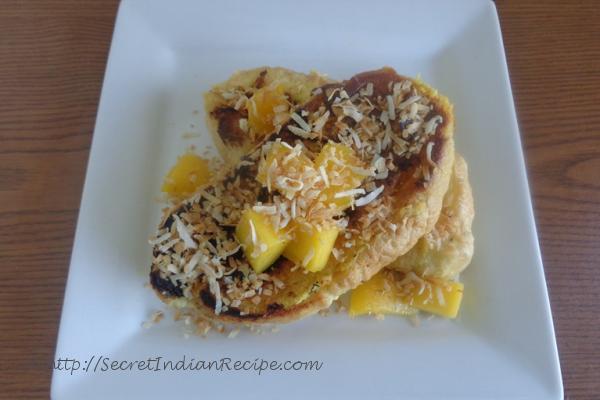 Ingredients:
4 slices Italian bread, 1-inch thick each
2 oz. Cream Cheese, room temperature
2/3 cup Vanilla flavored Yogurt
1/4 cup Milk
1/2 cup Pureed fresh Mango (from 1/2 small fresh mango)
1 Large Egg, beaten
1 tablespoon Organic coconut oil, divided
2 tablespoons Sweetened Coconut flakes, toasted
Diced fresh mango for serving
Directions:
Slice each bread into half horizontally. Then spread cream cheese on one cut side of each bread evenly. Put the other bread on.
Put yogurt, milk and pureed mango into a blender and blend until smooth. Transfer the mixture into a large baking dish or casserole. Add the egg to the baking dish/casserole and whisk to combine.
Put sandwiches into the baking dish/casserole and soak for 30 minutes turning a couple of times.
Melt coconut oil in a large nonstick skillet over medium heat. Add the sandwiches to the skillet and cook until the bottom sides are golden brown. Turn the sandwiches and cook the second sides until golden brown.
Place the French toast sandwiches (2 sandwiches for per serving) on each serving plate. Put diced mango over the sandwiches and sprinkle with coconut flakes (1 tablespoon for each) over the top.
Footnotes:
The sweetness of vanilla flavored yogurt differs from brand. Add sugar or honey to the mango lassi if you wish.