Mango Momos
#MangoRecipe Love to create and innovate mango recipes here sharing my original innovative mango recipe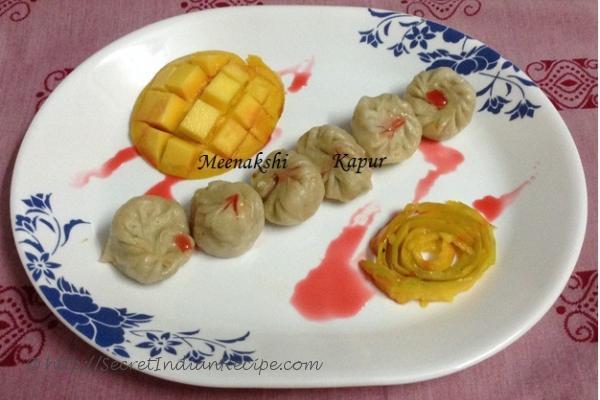 Ingredients:
1 cup mango chop in small pieces
1 cup mango juice
1 cup maida
5-7 raisins
5-7 almonds cut in small pieces
5-7 cashew nuts cut in small pieces
1 cup sugar
1 tablespoon butter/ oil
1 tablespoon cinnamon powder
1 tablespoon cardamom powder
Directions:
Add add maida and butter in bowl and mix with hands until it becomes like breadcrumbs.
Then add mango juice and knead dough. Keep it aside for about 15-20 minutes.
In pan, add butter add almonds, cashew nuts and stir them until they turn golden brown.
Add raisins and stir them for about 1 minute.
Add sugar and when it starts to turn brown then add chopped mango.
Just stir them for about 2 minutes and add cinnamon powder and cardamon powder.
Turn off flame and keep on stiring well so that it should not get burnt in hot pan.
From kneaded dough, roll out small balls and place mango mixture in middle.
Now make pleats from edges and then end pleats in the center of momos.
Heat water in deep pan and place bamboo basket and cabbage or lettuce leaf in it.
Apply little oil on each of the momos and then place Mango momos in it and cover the basket and pan.
Cook Mango Momos for about 10 minutes and ready to be served.
Garnish with mango and mango rose and drizzle strawberry syrup and serve Mango Momos
Footnotes:
Note: Take out small strips of mango with peel and arrange like rose to make mango rose for garnishing