Mango-paneer Pudding
Mangoes are in season,i tried combination of Mango -paneer to make my recipe healthy .I added some colors like tutti fruttti ,cherry and cream to it to make it tasty and attractive.So here is my innovative Mango-paneer pudding #MyMangoRecipe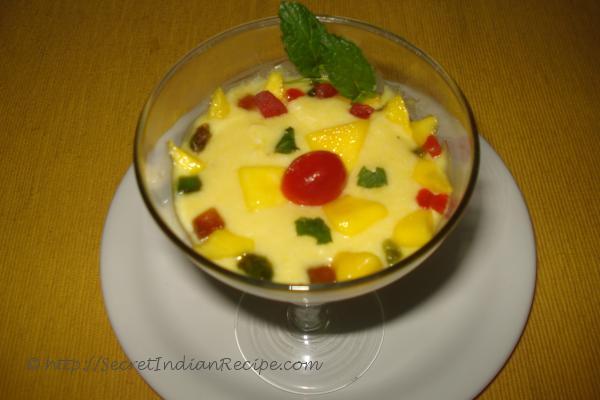 Ingredients:
2cups mango pulp
1/2 cup cottage cheese(paneer)
1/4 cup cream,
1 tbsp agar-agar powder dissolved in 1/4 th cup of warm water
1/4 cup sugar
1/4 cup ripe mango pieces
tutti fruttti to taste
tulsi leaves
glazed cherry for garnishing
Directions:
Dissolve the agar-agar powder in 1/4 th cup of warm water and Keep it aside.
In a mixer blend the mango pulp, paneer, cream and sugar.
Take a bowl and mix both the blended mixture and the dissolved agar-agar powder and Keep it in the refrigerator for setting.
When fully set garnish with mango pieces, tutti fruttti , tulsi leaves and glazed cherry and serve chilled .
Footnotes:
Easy to make ,attractive to eyes and tasty to tongue-Mango-paneer pudding #MyMangoRecipe.
serve chilled tastes better.