Mango Payasam/mango Kheer
Mango Payasam/Mango kheer also known as the Mambazha Payasam is a festive recipe that is made during the Onam Festival in Kerela. The payasam recipe is healthy and nutritious made from ripe mangoes, jaggery and the goodness of coconut milk and nuts. Here I have given this recipe with moong dhal which is also very tasty & healthy.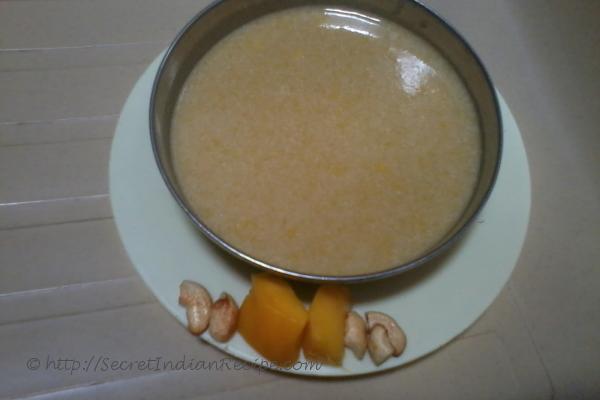 Ingredients:
Ripe mango (medium sized)-2
Grated coconut-1 cup
Moong dhal-2 tbsp
Raw rice-5 tbsp
Grated jaggery-1 cup
Cardamom powder-1 tsp
Cashew nuts-1 tsp
Ghee-1 tsp
Directions:
Grind the grated coconut with 1/4 cup of water and squeeze the milk from it and keep it aside.This will be a little thicker coconut milk.
Again add 1/4 cup of water to coconut and grind it and squeeze the milk from it and keep it aside in a separate vessel. - Thiswill be a little thinner coconut milk. Do not mix up the first and second time squeeze milks together.
Now chop the mangoes after peeling off the skin and grind the chopped mangoes in a mixer.
Dry roast the moong dhal till it becomes golden in colour. Mix the fried moong dhal and rice and add required water and pressure cook it.
Melt jaggery in water and remove impurities by straining it. Add the cooked rice, and dhal mixture with jaggery. Add 1 cup of water.
Let the jaggery boils well till its raw smell goes off. To this add the mango pulp and allow the mixture to boil.
When the raw smell of jaggery goes away, add the squeezed second coconut milk to the rice mixture and let it boil for a minute. When the mixture starts to bubble, add the squeezed first coconut milk and cardamom powder and switch off the flame.
Heat a pan, add little ghee and add cashew nuts and fry till it turns golden brown color. Add the fried cashews to Mambazha payasam (Mango Gheer).Serve hot/cold.
Footnotes:
You can add any dry fruits & nuts & coconut bits for seasoning.