Mango Pista Panna Cotta
#MangoRecipe
#MangoPistapannacotta
Panna cotta is an Italian dessert which is make with gelatin..My recipe is suitable for vegetarian..I didn't use gelatin or china grass..Mangoes are in season so made mango panna cotta with Indian touch..Gave it rose pista flavor to make it more delicious and fusion..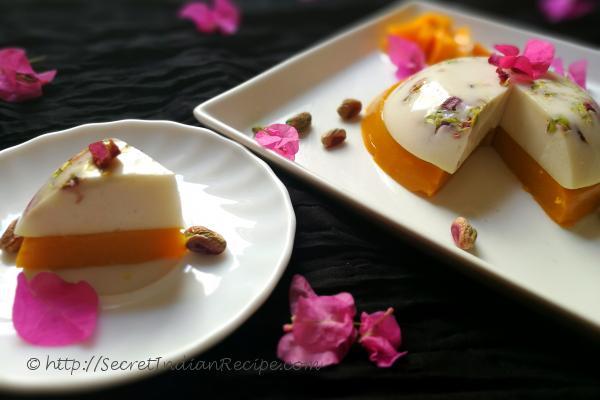 Ingredients:
For mango panna cotta layer
1 cup thick mango puree
2 tsp agar agar powder
4 tsp sugar
4 tbsp water
For white layer
1 cup full fat milk
1/2 cup heavy cream
1 tsp vanilla extract
2 tsp agar agar powder
4 tbsp water
3/4 Cup powdered sugar
1 tbsp rose petals
8-10 pista soaked blanched and chopped
1 pinch kosher salt
Directions:
First we will make white cream panna cotta layer..Heat a pan add water let it boil add agar agar powder mix well..Let it dissolve completely add milk, vanilla extract , powdered sugar and cream and mix well..
Keep stirring when it starts thick switch off the flame..Let it cool..Grease the mould in which u want to set panna cotta..First add rose petals and chopped pista on base of mould
Pour white cream ready over pista layer..Let it keep in fridge for set..Now we will make mango layer.. In a pan add water let it boil add agar agar powder let it dissolve completely..
Add mango puree add sugar and mix well..Keep stirring let it boil for 2-3 minutes.. Switch off the flame..Let it cool bit..
When it cool down pour it over set white layer panna cotta.. Keep it in fridge for at least 2 hours to set and chill.
After 2 hours it sets completely.. tadaa your mango pista panna cotta is ready to eat..Enjoy ur Royal recipe..
Footnotes:
Agar agar is work on boiling water with my experience..So mix it in boil water not in normal or chill water..
Sugar can adjust as per taste.. Instead of sugar can use stevia/ Raw sugar / honey for making it healthy
Instead of mango u can make Rose strawberry or your choice of flavor..