Mango Pudding
Puddings are my all time favourites. This is a special pudding recipe that you can make without baking or steaming. So, mango lovers, this is one of the easiest puddings you can make at home using your favourite mango.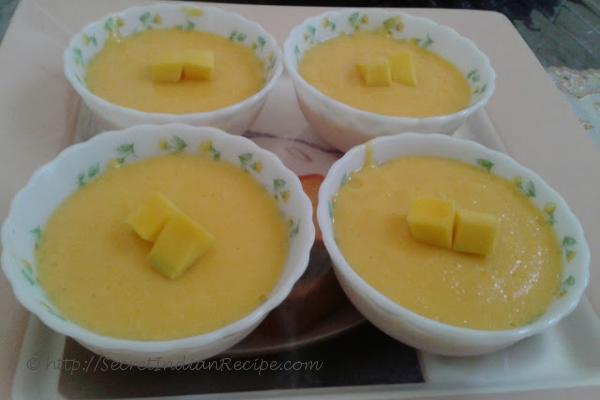 Ingredients:
Mango-3
Sugar-3/4 cup
Milk- 1 cup
Water-1/4 cup
Gelatine- 2 tbsp
Directions:
Peel off the mangoes and cut into small pieces
Blend the mango pieces, milk and sugar in a blender.
Take 2 table spoon of gelatine in 1/4 cup of water and allow it to dissolve for 10 minutes.
Boil the gelatine-water mixture in a steel vessel until the gelatine dissolves fully.
Mix the dissolved gelatine with the blended mango mixture and again blend once.
Transfer the pudding mixture into the serving bowls and refrigerate for 6-7 hours.
When chilled, remove the pudding from fridge and decorate with small mango pieces.
Footnotes:
You can also keep the serving bowls in freezer. If kept in freezer, refrigerate for 3-4 hours.