Mango Rasgulla
Mango Rasgulla is an experimental recipe of mine and was super duper hit in my family..Got recipe idea from one friend and made it with my way..Now Bengali Rasgulla in Mango flavor..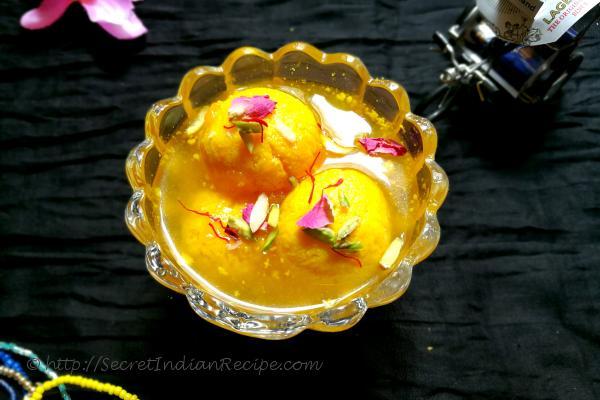 Ingredients:
500 ml full fat milk
1 tbsp sour curd
1 tbsp lemon juice/vinegar /pich of citric acid
2 tsp suji/semolina
2 tbsp finally chopped Mango for stuffing
1 cup mago puree thick
For sugar syrup
1 cup sugar
3 cup water
1/2 cup mango puree
1 pinch of saffron
For garnish
Pistachios sliced
Kesar strands
Directions:
First we will make mango chena.. boil milk add mango puree ..In curd add little water add lemon juice..Mix well..Pour curd lemon mixture in milk..When whey start separate switch off the flame
Cool it bit..Strain it in strainer wash it with cold water..So sourness rid out.. put chena in muslin cloth. squeeze all water..Put heavy utensil on paneer..So all water squeeze out..Keep it for 15-20 minutes
Meanwhile we will make sugar syrup..In a cooker add sugar water mango puree and saffron..Let it boil on slow flame.
Now after squeeze all water knead ,smooth paneer with hands in a plate .add suji.knead it again.When it become soft, smooth and without cracks make medium size balls out of it..
Flatten the chena balls with your hands add chopped Mango pieces in it..Seal the paneer balls from all sides without cracks..Now add rasgulla balls in sugar syrup one by one ..Don't overcrowded the pan..
Cover it and boil it for 15-20. Minutes at low medium flame..When it double up in size take it out from pan..Add some syrup over it.. Garnish it with sliced pistachios and saffron..
Your Mango Rasgulla is ready.. Serve hot or chill..