Mango Rasmalai (mango Flavored Milk Dessert)
Mango Rasmalai is a sweet recipe made with milk and mangoes. Mango is a versatile fruit and is widely used in desserts. This is one of my favorite Indian desserts.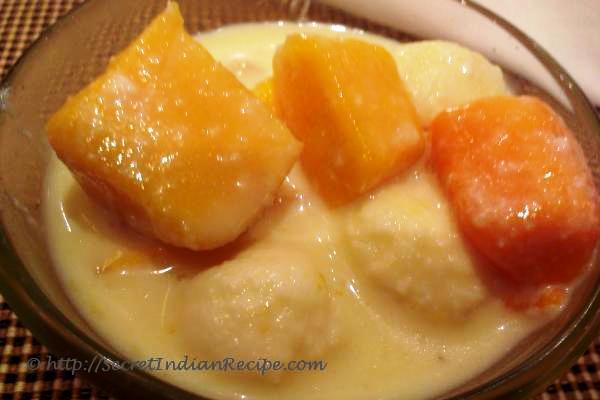 Ingredients:
Milk – 1 litre
Milkmaid – ¼ cup
Sugar – 100 grams
Mango – 1 piece.
Mango essence – 2 drops.
Directions:
Boil 750 ml of milk and add ½ of lemon juice to make chenna (curdled cheese). Drain the excess water and then knead the chenna till it turns to a smooth dough. Make small balls out of the dough and keep aside.
Peel the mango and cut into small pieces.
In another pan boil remaining milk and then add milkmaid, sugar, ½ cup of water and chenna balls.
Cook on medium heat for 10 -12 minutes. Finally add the mango essence and turn off the heat. Add mango pieces and keep the rasmalai in refrigerator for an hour before serving. Serve chilled
Footnotes:
You may add any fruit of your choice