Mango Rava Cake
#MangoRecipes
#MangoRavaCake
When life give you Alphonso make something different and yummy..
Mango Rava cake is the most healthiest and flavourful cake I ever made..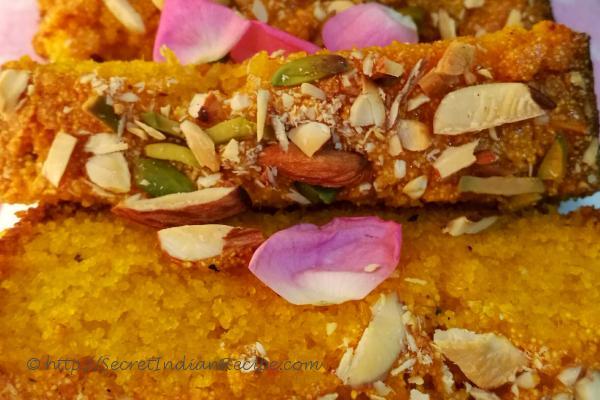 Ingredients:
1 cup fine semolina or rava
1 cup Alphonso or any other mango puree
1/4 cup any oil fragrance free I used canola oil
1 tsp baking powder
1 cup sugar
1 tsp cardamom powder
1/4 cup chopped mix nuts..I used almonds pistachios and cashewnuts
Directions:
First sliced all nuts and keep aside. Preheat oven at 160 'C ..
Mix rava mango puree cardamom powder sugar and oil and mix well keep aside for 10 minutes to absorb mango puree by rava
Mix half of dry nuts and mix well..if mixture seems dry add little milk ..Grease baking pan .Pour batter in mould..
Bake it in preheat oven at 25 minutes to 30 minutes at 160'C .Or toothpick comes out clean..Tadaad your healthy yummy Mango Rava cake is ready to eat
Footnotes:
Sugar can adjust as per taste and sweetness of mango..If mixture seems dry add little milk to make it pouring consistency. check in between while baking..