Mango Sandesh
Sandesh is a sweet dish prepared by Chenna (cottage cheese) in Kolkata. Traditionally it was made by just mixing chenna and sugar but with the change in taste and to bring in more variety, Balaram Mullick & Sons (A famous Sweet shop in Kolkata) started bringing fruit flavours in sandesh. Here is the recipe of the most loved fruit flavor – the Mango sandesh.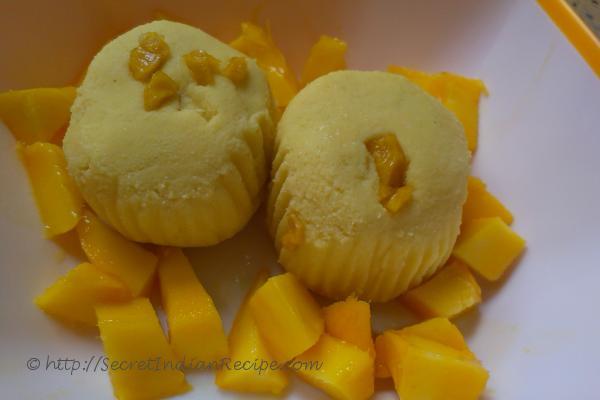 Ingredients:
Milk Chenna (Cottage cheese) – 1 litre milk
Grounded sugar – ¼ cup
Amsatta (Dry Mango pulp) – ½ cup (See footnote)
Mango – 1 mango (Chopped for garnishing)
Directions:
Puree the Amsatta (dry mango pulp) with two –three tablespoon of water and keep aside.
Pour the chenna in a non- stick pan and sauté on low heat for 2-3 mintues.
Now add the Amsatta puree and sugar and cook on low heat till the sugar dissolves.
Put the prepared mixture into moulds and refrigerate for an hour.
Place finely chopped mango pieces or amsatta and serve.
Footnotes:
You can make Amsatta (dry mango pulp) at home. Take 1 litre ripe mango juice and boil it in a wide container. Boil till it reduces to one third. Add 4 tablespoon of sugar and cook for another 10 mintues. The sugar adds to the sweetness and acts as a natural preservative. Take a glass plate and grease it with oil. Now pour a layer of mango preparation and keep it under sun to day. After few hours when the first layer is set, Pour another layer and again keep it under sun. Follow this till the mixture ends. Once it is dried cut square pieces and keep it in refrigerator.