Mango Sandesh
#MangoRecipes #MangoSandesh.. Sandesh is bengali sweet which is made with chena or Cottage Cheese. When mango is added to this it taste heavenly..Fusion of authentic sandesh recipe..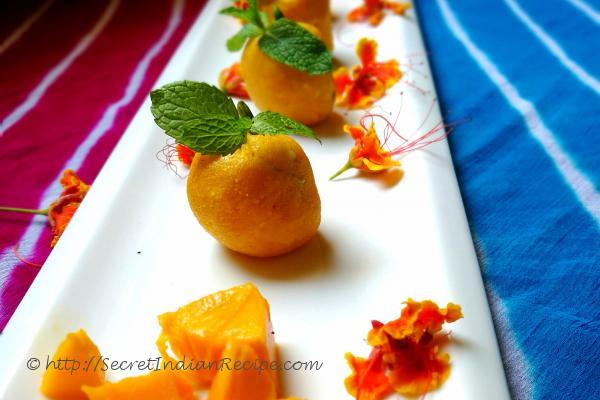 Ingredients:
250 gm fresh Paneer
3/4 cup Mango puree
2 tbsp Condensed milk
1 tbsp Almonds sliced
1 tbsp Sugar
12-15 Kesar strands(Saffron)
1 tbsp Milk for soaking kesar
For Garnish
4-5 Mint leaves
4-5 sliced Pistachios
Directions:
First knead fresh paneer till it soft. Add 1 tbsp of condensed milk add 1 tbsp of sugar and knead well..
In a pan add mango pureeand add 1 tbsp condensed milk or little more if mango is not much sweet..Add paneer mixture, sliced almonds. mix well..Keep stirring on medium heat till it leaves sides..
It takes 10 minutes..But be careful to keep stirring because it will stick to pan fast..Now switch off the flame..Let it cool..Add kesar milk and mix it well with hand. Mould sandesh to mango shape for more drooling effect.
Garnish it with mint leaves and pistachios slices .Your mango shaped mango sandesh is ready to serve..
Footnotes:
I used alphanso for lovely color and taste..Sugar can be adjusted as per your sweetness..