Mango Shushi (fasting)
#MangoRecipes #MangoShushi #FastingRecipe
Mango are in very much season..So made this Fasting Recipe for fasting people..I gave it name Mango Shushi because I gave it shape like Shushi.. Fusion recipe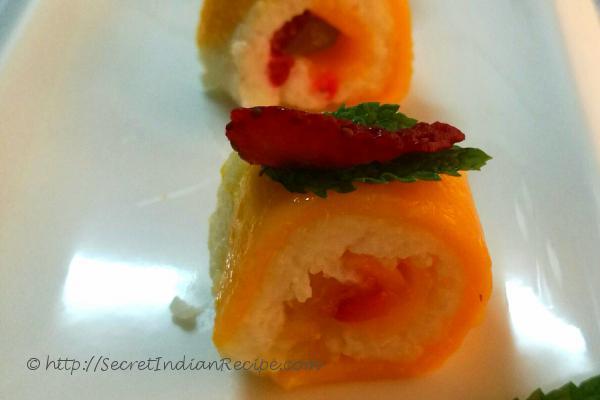 Ingredients:
1/4 cup Samo Rice wash and soaked
2 big Alphonso
5 grapes sliced
2 strawberry sliced
1 cup milk
4 tbsp sugar or more as per taste
1 strawberry sliced for garnish
1 tbsp milk or water
Directions:
Wash and soaked samo rice for at least 30 minutes..Heat a pan add milk sugar and samo rice and cook it till it soft and milk absorb..It took 5-10 minutes..
Now switch off the flame let it cool.. Meanwhile we peel off the mango and peel thin slices with peeler.. Sliced grapes and strawberry....
Take cling arrange it on plateform or on plate..Now arrange Mango slices over it one by one..With help of milk or water spread carefully samo rice over it..Now fill it with sliced grapes mango and strawberry
Now roll it carefully and tightly with help of cling wrap..And keep it in fridge for 30 minutes..
Now after 30 minutes take it out..Open it and cut it with sharp knife.. Garnish it with sliced mango strawberry or kiwi. serve chilled
Footnotes:
I used strawberry u can use other fruit of your choice..If samo rice become thick after cooling add little milk and mix it well..Arrang samo rice with help of milk or water over mango slices.. Range
If don't want to make vrat samo rice..Use sticky rice instead of it..Same cook with milk or coconut milk..