#mangorecipescontest Aamba Khajuri Achar
A long lost pickle recipe picked up from my mother in law's Khajana with no oil ....taste so good with parathas and rotis that you would never have an empty bottle in shelf....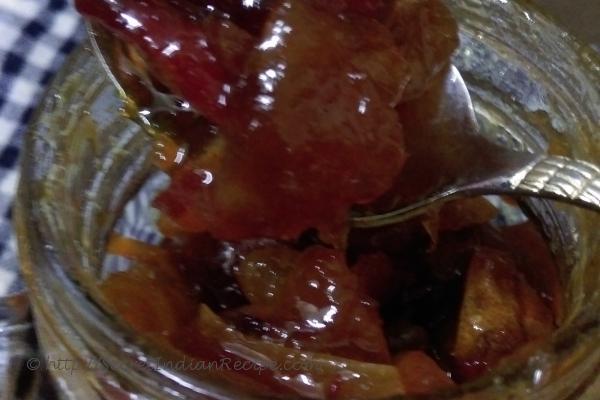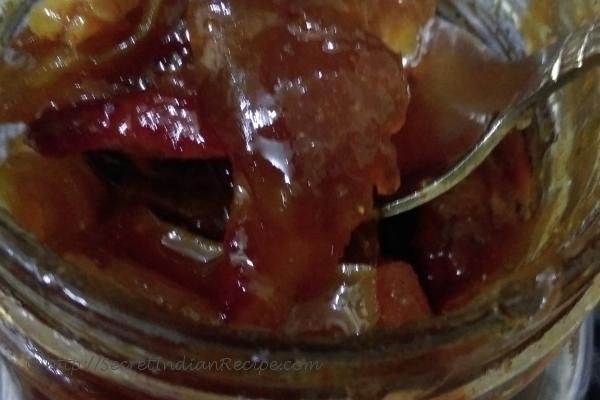 Ingredients:
Raw mango 300 gr. Peeled and cut slices
Termeric powder 2 tsp
Salt to taste
Gaggery 260 gr.
Ginger 1" slices
Garlic 8 cloves slices
Dates 100 gr.cut into slices
Raisin 15 nos
Red chilli powder 1 tbs
Vinegar 2 tbs
Directions:
Take the raw sliced mango ,add salt turmeric powder and leave it for 5 hours .
Take the jaggery in a wok and heat it in low flame, after 3 minutes add the mangoes and stir it continuously, cook it in low flame as the pickle will have a great colour .
Stir it continuously and properly as the jaggery burns very fast.
After 10 minutes add vinegar chilli powder , sliced dates , raisins , sliced ginger ,sliced garlic and cook it for 10 more minutes in low flame .
When mango turns soft , cool it and store it in air tight container jar. You can use it for a long time .
Other Indian Recipes that you may Like !