Marwari Aloo Dum (dry Potato Curry Without Onion And Garlic)
When I am travelling by train, I prefer to carry my home cooked food. Most of the time it is dry mixed vegetables or Paneer Bhujia. Last time when I was coming back from Rajasthan, there was a young Marwari couple sitting on the opposite seat. They offered me this ' Dry Aloo dum'. My first impression was, it will be boring as they told me that it does not have any onion and garlic and second it will be loaded with Ghee……But I was actually wrong. Not only, it had very less oil but it was very tasty and I could get the unique taste of coriander and fennel powder in each bite…..Here is the recipe for you to try.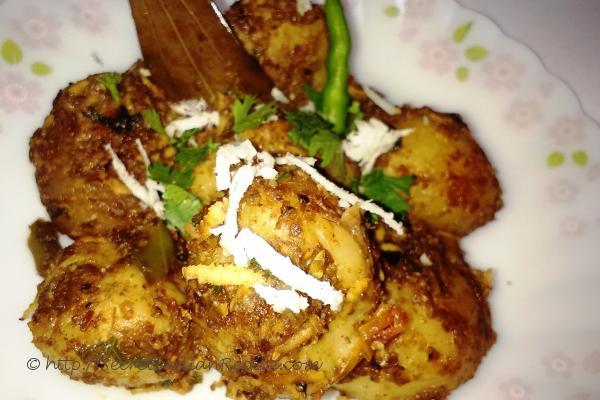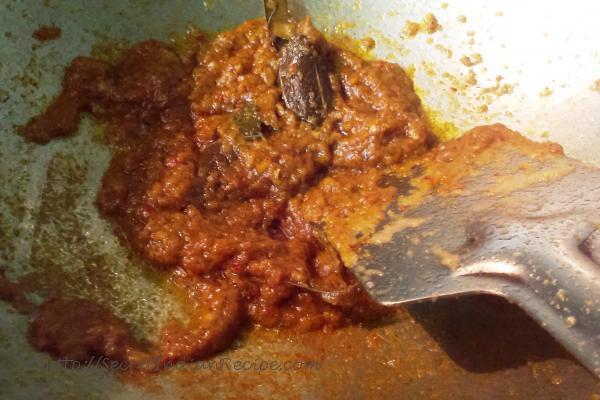 Ingredients:
Boiled Potato – 250 grams (Small sized)
Oil – 4-5 tablespoon
Hing (Asafoetida) –a pinch
Bay leaves – 2-3 leaves
Cumin seeds –1 teaspoon
Red Chilli powder – 1 tablespoon
Cumin powder – ½ tablespoon
Coriander Powder – 1 tablespoon
Sauf (Fennel powder) – ½ tablespoon
Curd – 3-4 tablespoon
Garam Masala Powder ½ tablespoon
Grated coconut – 2 tablespoon (Optional)
Salt – As per your taste
Green Coriander leaves – 2 tablespoon chopped
Directions:
Peel off the boiled potatoes and keep aside.
Heat oil in a pan and fry the boiled potatoes till they turn light brown. Take them out in a bowl.
Add all the dry spices in the bowl containing fried potatoes – red chilli powder, cumin powder, coriander powder, fennel powder, garam masala powder and curd and mix well. Leave it to marinate for 30 mintues.
After the potatoes are marinated, Heat the remaining oil in the pan and put hing, cumin seeds and bay leaves. Let the cumin splutter and then you pour the marinated potato along with the masala. Add the grated coconut and salt and mix. Put a lid on and cook the masala on low flame for about 10 mintues…….Keep stirring in between or it may burn.
Garnish it with Chopped coriander leaves and serve.