Masala Baati (spicy Unleavened Bread)
Hailing from the Marwari platter is yet another exotic dish called Masala Baati (hard round unleavened bread). Masala Baati is a unique combination of spicy filling with wheat flour and all purpose flour that will surely develop in you a liking for Rajasthani food. Being married into a rajasthani family, I had to prowess in the art of making Baatis. Usually, Masala Baati is fried in ghee but I tried it on the Baati oven since my family does not prefer much oily food. It is commonly made here during festivals. This Baati is very nutritous and appetizing. One should really try them and give a break to the routine parathas and rotis.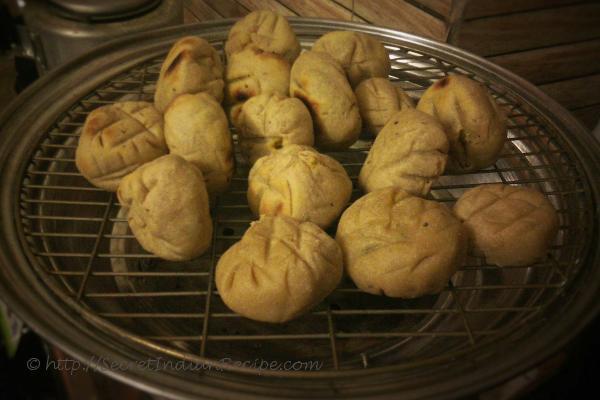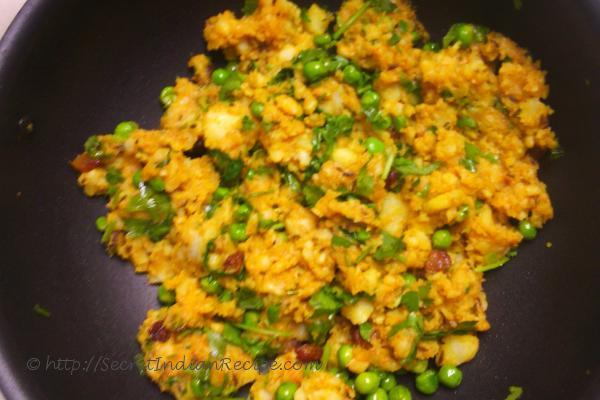 Ingredients:
For the Filling :-
Boiled & Mashed Potatoes - 2 medium sized
Peas - 1 small bowl
Cashew-nuts & Raisins - 1/4 cup
Coriander seeds (coarsely crushed) - 2 tsp
Green Chili - 1 (finely chopped)
Cumin Seeds - 1 tsp
Fennel Seeds - 1 tsp
Turmeric Powder - 1/2 tsp
Red Chili Powder - 3/4 tsp
Coriander Powder - 1 tsp
Dry Mango Powder - 1/2 tsp
Garam Masala - 1/2 tsp
Salt to taste
Oil - 1 tbsp
Fresh Coriander Leaves for Garnish
For the Dough:-
Wheat Flour - 1/2 cup
All Purpose Flour - 1/2 cup
Gram Flour - 1/4 cup
Semolina - 1/4 cup
Clarified Butter - 1/4 cup
Carom Seeds - 2 tsp
Water - 2 cups
Salt - 1/2 tsp
For Serving:-
Clarified Butter - 1 cup (optional)
Directions:
For the filling:- Heat oil in a pan and add cumin and fennel seeds along with crushed coriander seeds.
As they crackle, add green chilies, peas, cashew-nuts and raisins.
Now add turmeric powder and red chili powder.
Immediately add the potatoes and mix well.
Add coriander powder, dry mango powder and garam masala. Saute well.
Sprinkle salt as per taste and take off from flame.
Garnish with fresh coriander leaves and keep aside.
For the Dough:- In a kneading bowl, add wheat and all purpose flour, gram flour and semolina. Mix well.
Now add salt and carom seeds.
Add half cup clarified butter and mix well till the flour's texture becomes like bread crumbs.
Slowly add water in parts and knead a medium soft dough. The dough is perfect if it does not fall flat after giving round shape to a pint.
Keep the dough covered for 15 minutes.
For making the baatis, take a small pint of the dough and expand it like a roti.
Put a teaspoon full of the potato filling and cover it from all the sides just like we do while making aloo paratha.
Give it a round shape and repeat the same with the remaining dough.
Preheat the baati oven for 5 minutes and place the baatis on the baking plate.
Cover it and let it bake on medium flame.
Keep checking and turn it occasionally for equal baking of all the sides.
It takes around 30 minutes for proper baking of the baatis.
Remove the baatis from flame when you see the brown baked colour on all sides.
Before serving, dip the baatis into melted clarified butter and serve with dal and lahsun ki chutney.
Footnotes:
Masala Baatis is mostly deep fried in ghee and it takes less time too.