Masala Bhaat (spicy Rice)
It is a rice preparation with seasonal vegetables and spices. It can be served as a meal itself or with any side dish.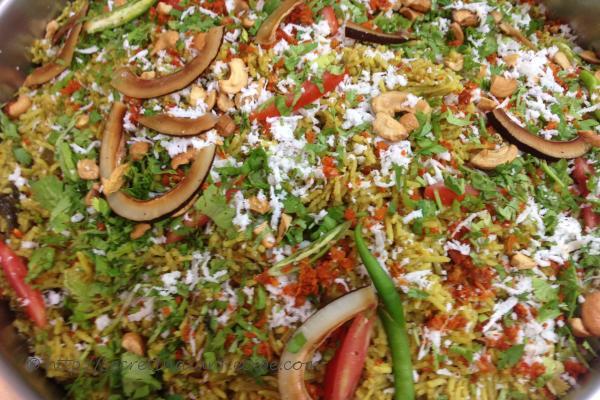 Ingredients:
Rice -200GM
Turmeric powder- 1 tablespoon
Tendli - 50 grams
Brinjal - 50 Grams (cut in cubes)
Carrot - 50 Grams (cut in cubes)
Cauliflower florets - 50 grams
Green pea - 50 grams
Cashew - 20 grams + 10 grams for garnishing
Onion - 50 grams (chopped)
Agri Masala - 1 tablespoon
Ginger and Garlic paste - 2 tablespoon
Whole garam masala - 1 tablespoon
Ghee - 4 Tablespoon
Salt - To taste
Water - as required
Fresh Coriander and Coconut for garnishing
Directions:
Heat Ghee in a pan.
Soak the rice in water and keep aside.
Once ghee is heated add whole garam masala and cashew and let them splutter.
Add chopped onons and ginger and garlic paste and saute.
Add Turmeric Powder, Agri Masala, Vegetables, salt and water and bring it to a boil.
Add soaked rice and cook till the vegetable is 70% done.
Now put a tawa under the pan and cover the top of the pan with aluminium foil
Cook it on low flame till water evaporates.
Garnish it with fried cashew, coconut slices and fresh coriander leaves.
Footnotes:
Agri Masala consists of Red chilli, Turneric and whole garama masala dired under sun and then grounded into powder.