Masala Cheese Toast (toasted Bread With Vegetables Cheese And Masala)
The Portuguese and British introduced us to bread and what a journey we have embarked ever since. The pav bhaji, bread upma, bread pakoda, bread bonda, bread poha, bread pudding, shahi tukda... the list could go on and on. An average Indian consumes bread at least once a week given the hectic schedule we all live with. My latest love has been this masala cheese toast. I use any leftover veggies I find in my refrigerator the day I make this toast. Cheese is optional but it helps bind the ingredients onto the toast. I think the strongest flavour on this toast is chopped coriander leaves. This one ingredient tells us this is an Indian breakfast. I have used tomatoes and red bell peppers. But you can try grated carrots, beans, corn, paneer and spinach too.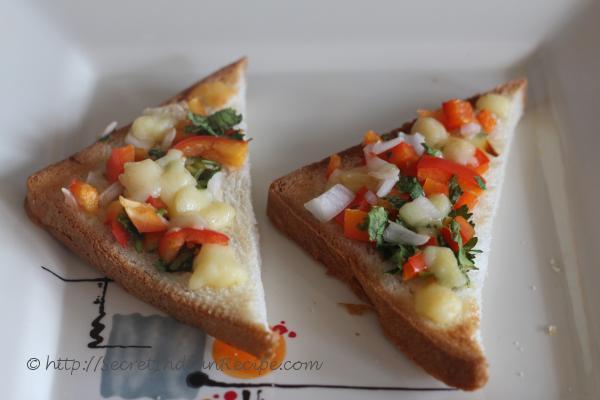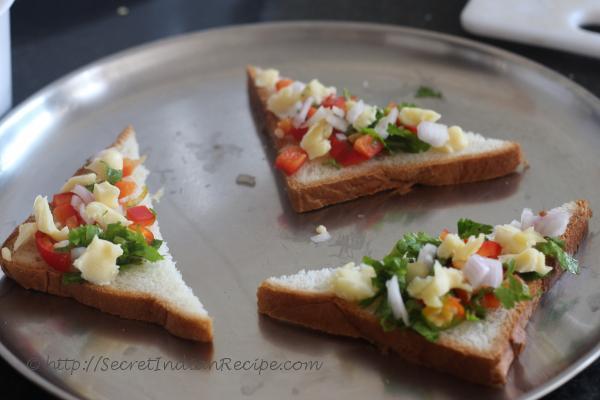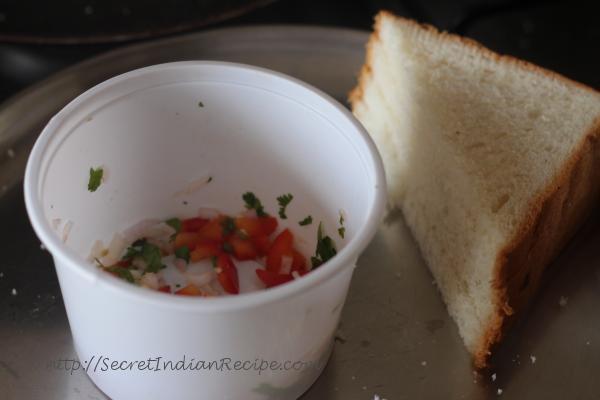 Ingredients:
Bread slices - 12
Red bell pepper- 1
Tomatoes- 2
Green Chilies- 2
Onion-1
Coriander leaves chopped- 1/4 cup
Grated mozarella cheese- 1/4 cup
Oil or butter- 3 tbsp
Directions:
Slice the bread into halves so that they make triangles. I prefer to keep the edges I suggest you so the same unless you find them hard and want them off.
Chop the onions, tomatoes, green chilies and bell peppers finely. Apply oil or butter on one side of the bread slice.
Top all the ingredients and add grated cheese on top. If using an oven, grill for 8-10 minutes.
Watch out not to burn the cheese hence keep checking. Chances are that your oven might take lesser time too.
If using stove top method the whole procedure changes. Toast one side of the bread and flip over to the other side.
Apply oil or butter to the second side and top the ingredients with grated cheese immediately.
Cover the pan with a lid and cook slowly till the cheese melts. Serve with ketchup.
Footnotes:
I omit adding salt in this recipe because of the cheese. If you want the toast more salty sprinkle some salt after assembling the veggies and cheese.