Masala Chholey (spicey Chick Peas)
It is a north Indian side dish recipe.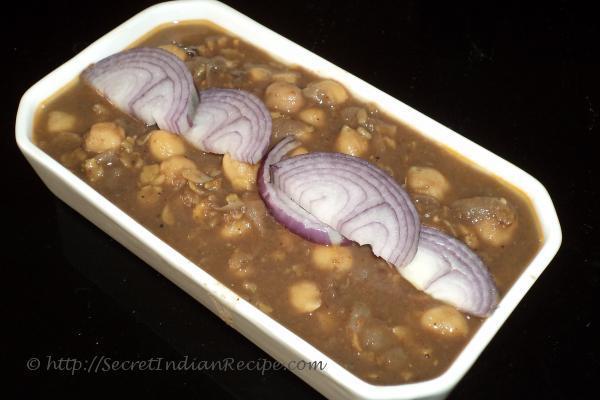 Ingredients:
Chick Peas-200gm
Cardamom-1
Cinnamon-1 Piece
Clove-2-3
Ginger paste-1 inch
Onion- 1 piece
Salt to Taste
Red Chilli Powder - 1/2 tablespoon
Pomegranate seeds powder - 1 tablespoon
Green Chilli-2-3
Oil- 6-7 tablespoon
Chopped Tomatoes-2 pieces
Directions:
Soak the chick Peas in a bowl full of water for 9-10hrs
Take a pressure cooker and add chickpeas ,Cinnamon ,cardamom,clove and salt and cook upto 6-7 whistles.
Heat oil in a pan and fry the onions till it gets brown.
Add chopped tomatoes, ginger paste, pomegranate powder , green chilliesred chili powder and cook for 1 mintue.
Now add the boiled chick peas and cook on low heat for 2-3 mintues. Masala chole is ready .