Masala Dosa
Every north India food enthusiast has tired this dish Atleast once, to say the least!
This is a tried and tested recipes- won't let you down!
Drop a comment or improvement suggestions if you like!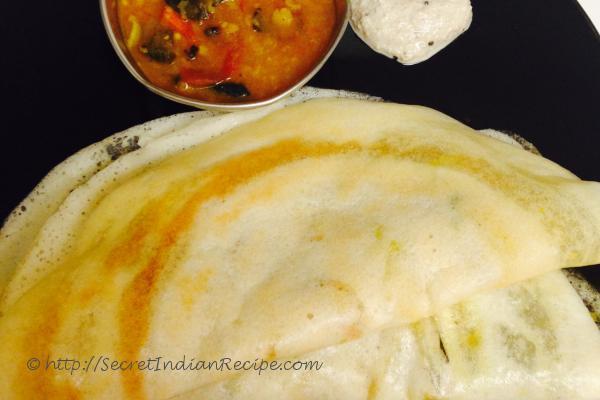 Ingredients:
2 cup idli rice ( normal rice grains will work as well)
1 cup skinned urad daal
1/4 cup channa daal
1 tsp fenugreek seeds
Wash throughly All of them and soaked for 4-5 hours till soft and made into smooth batter
Enough water for soaking and grinding
Directions:
Grind all the soaked grains into a smooth paste. Tip: take small amount at a time and leave some batter into the mixer jar then pour more soaked grains into it. The batter closer to the blades will help it move more easily!
Keep the batter ( it should be of pancake consistency and easy to pour from a laddle) into a big bowl and put it away inside a warm place. This will assist in the fermentation process Never add salt into the batter- as some salt has iodine that stops fermentation. In about 12 hours you should see the batter rise up and a bit frothy on top. We will add salt just before we start making dosa!
You will need a non stick pan and some ghee/oil and a bowl of cold water and a kitchen towel. Heat your non stick pan on med high heat and then wipe the hot pan with cold water soaked kitchen towel- this brings down the temp and helps making good dosa. Drop a laddle full of batter into the center of pan and make "concentric circular" motion with back of the laddle. Add few drops of ghee and in 2 mins keep your potato stuffing in middle then "peel off" and fold the dosa! If your fermentation is proper then it will come out neatly! The recipe for potato masala filling is as follows: 1) 3 large potatoes boiled with salt peel and smashed loosely 2) 1 big onion 3) curry leaves 4-5 4) green chillies chopped finely 5) 2 garlic and 1/2 inch ginger chopped fine 6) black mustard seeds, asefortida and salt and 2 tsp oil for frying. Process : Heat pan add some refined oil, crackle mustard seeds, hing, curry leaves and add chopped GG GC also onion and potatoes cook in low heat and add turmeric and cumin powder as well. A bit of water if it's too dry. Let it cool a big before apply this to the dosa.