Masala Kappalandi (spicy Peanut Masala)
A very spicy snack, that can be made quickly and easily. If you have a packet of peanuts at home, then you can surprise your loved ones with this crispy snack. It can be served during tea time or as a starter for parties. My husband loves all spicy foods and this one occupies the top space among them.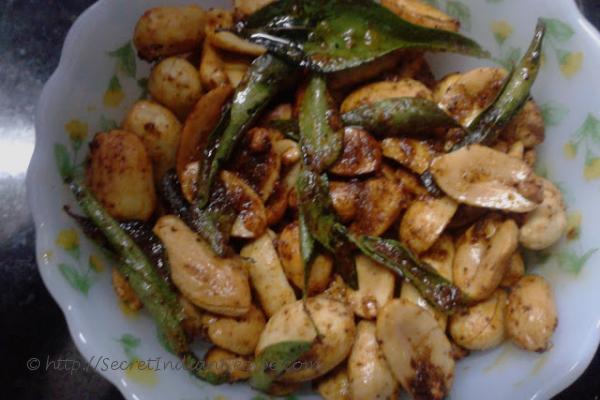 Ingredients:
Peanuts-1 cup
Red chilli powder- 2 tbsp
Salt- 1 tbsp
Ghee- 2 tbsp
Curry leaves-10
Directions:
Heat the ghee in a pan and add curry leaves to the ghee and fry well.
Transfer the fried curry leaves to a plate and keep aside
Add the peanuts to the remaining ghee and sauté it on low flame for 2 seconds
Add salt and red chilli powder to the peanuts and sauté for 5 seconds.
Switch off the gas and remove the pan from flame.
Now, add the fried curry leaves and mix well. Serve hot.
Footnotes:
While adding red chilli powder, be careful that it does not get over heated.