Masala Masoor Dal(spicy Red Lentil)
Masala Masoor Dal is a culinary delight which is prepared with spices and lentils.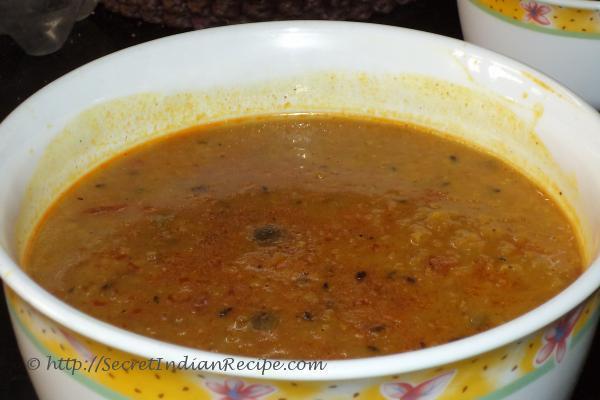 Ingredients:
Masoor dal (rinsed) :- 2 cups
Garam masala :- 1 tablespoon
Turmeric powder :- 1/2 tablespoon
Salt :- 1 tablespoon
Oil :- 2 tablespoon
Onion (chopped) :- 1-½ table spoon
Garlic (chopped and separated) :- 1 table spoon
Ginger root (chopped) :- 1 tablespoon
Green Chilies (chopped) :- 2 pieces
Tomatoes (chopped) :- 2 pieces
Coriander (chopped) :- 1 bunch
Water as required
Directions:
Boil the masoor dal for 15 minutes in a deep pan and when dal is half-cooked, put half tablespoon of garam masala, turmeric powder and salt.
Once masoor dal is cooked, remove the lid, keep as much water to maintain thin consistency and then switch off the flame.
In a wok, heat oil and put onions in it. Cook until soft.
Add ginger, green chilies and garlic. Keep frying.
Add leftover turmeric and garam masala. Stir well until mixture begins to thick.
Mix coriander and tomatoes to it. Cook until tomatoes are cooked.Pour this mixture in masoor dal and simmer.Serve hot.
Footnotes:
Garnish with chopped coriander and serve hot with steamed rice.