Masala Shikhanji (modinagar Special Lemonade)
Masala shikhanji at the outset might look like plain lemonade spiced up a bit. But for someone like me from the Southern part of India this is totally different from what we call lemonade. In our homes lemonade is an over sweet drink with lemon, sugar and water but Shikhanji is totally different from this version. What makes it taste different is the addition of cumin powder, mint, ginger and rock salt. With food stalls from various parts of the country coming up in Bangalore, Shikhanji stalls with boards " Shikhanji from Modinagar" has started gaining attention here. Modinagar is situated in Uttar Pradesh and this drink hails from this town.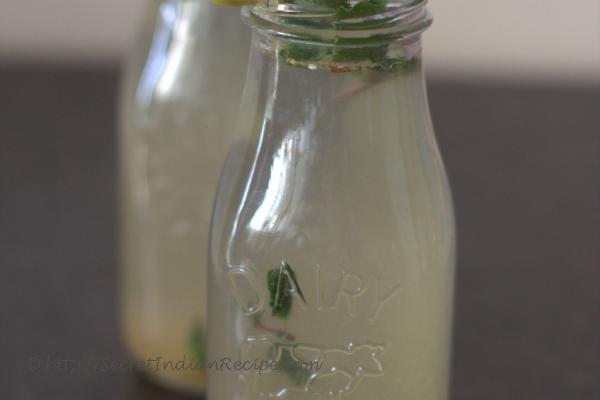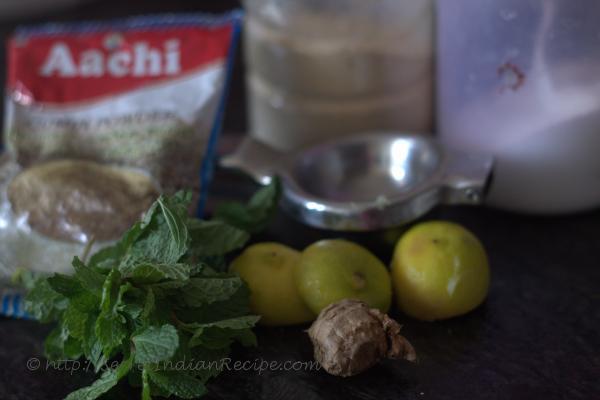 Ingredients:
Lemons- 2
Ginger- 1 inch piece
Cumin powder- 1/2 tsp
Sugar- 4 tbsp
Water- 200 ml
Mint- a small sprig
Black salt- a pinch
Soda/Water- 250 ml
Directions:
Prepare sugar syrup first by heating the sugar in 100 ml water. As the syrup becomes thick switch off the flame and let the syrup cool.
Puree the ginger with 100 ml water in a blender and strain the extract.
Prepare lemonade with 2 squeezed lemons, the sugar syrup and ginger extract. Add cumin powder, black salt and crushed mint leaves into this lemonade.
Add soda or water to prepare the lemonade with all the ingredients mixed above. Serve chilled.
Footnotes:
Adjust salt and sugar according to your preference. You can add chaat masala instead of black salt if you have it.
Make a paste out of mint if you like strong flavour of mint.
You can add sugar instead of sugar syrup and ginger crushed instead of puree, the use of syrup and puree infuses the flavours better hence is suggestible.