Masor Murighonto
This is a typical dish that is cooked with fish head. Usually made with Rohu Fish head. It can be made with yellow mung dal , rice or rice flakes. I have tried with all the three but my favourite is with mung dal.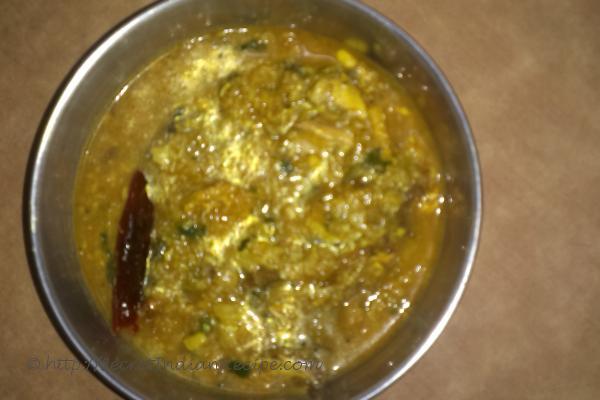 Ingredients:
Fish Head -1 broken in to half
Yellow mung dal -1/4 cup soaked in water
Onion medium size- 2-3 cut into thin slices
Ginger-1inch
Garlic-8-10 cloves
Dry red chilli - 3-4no
Jeera (Cumin)-1/2 tsp
Dhania (Coriander)-1/2 tsp
Black pepper-1/2 tsp
Chopped Coriander leaves -2 tablesppon
Salt to taste
Turmeric powder-1/2 tsp
Mustard oil to fry
Garam masala-1 tsp
Warm water
Directions:
Clean the fish head .Remove the red part which lies below the ear part. rub with little salt and turmeric powder. Keep aside.
Heat oil. fry the fish head till its done. Remove from oil and keep aside.
In the same oil add little sugar. Once the oil is caramelized add Tezpatta, dry red chilli, white mustard seeds. wait till the mustard seeds crackles.
Then add onions. Fry till it is a little brown.
In the mean time make a paste of one onion, garlic, ginger, jeera, dhania, green chilli and black pepper.
Then add it to the fried onion. fry till oil starts separating.
Add the pre-soaked mung dal . Fry for a minute, then add salt and haldi powder. Mix it well and fry for some time. Then add the fried fish head. Break the fish head to smaller parts.
Add 2 cups of warm water, mix properly. Cover and cook till dal is done.
Add garam masala. mix it . Finally add chillies and chopped coriander leaves.
Serve as a side dish with rice.
Footnotes:
Same quantity of rice/rice flakes (Poha washed properly and strain the water) can be added instead of mug dal.
In Assam we generally do not use powdered spices. we usually soak the spices whole in water and then grind it on sil bata . But goda masala or kolhapuri kanda lasun masala also can be used as its a little spicy dish.
Other Indian Recipes that you may Like !