Matar Aur Bhutte Ka Pulao (corn And Pea Pulao)
I have been taught not to waste any food since my childhood. My mother was so strict about this idea that she used to add the leftover food ; rice and dal with flour to make chappatis or parathas. As a working women, I face this problem of excess or left over food quite often. Sometimes if there is a project going on in the office, I had to stay back and finish my work and then everyone in the office eat together....The result... what I had prepared in the morning for dinner is left. The side dishes can be enjoyed next day but what about the leftover rice? I usually toss it with some veggies or chicken to make fried rice or pulao. Here is one of my favoruite and less time consuming recipe of Matar and corn Pulao.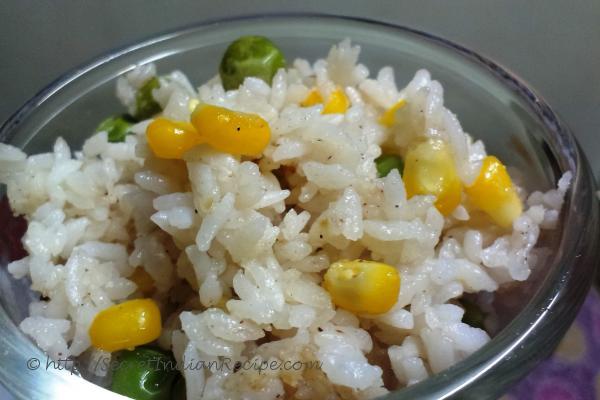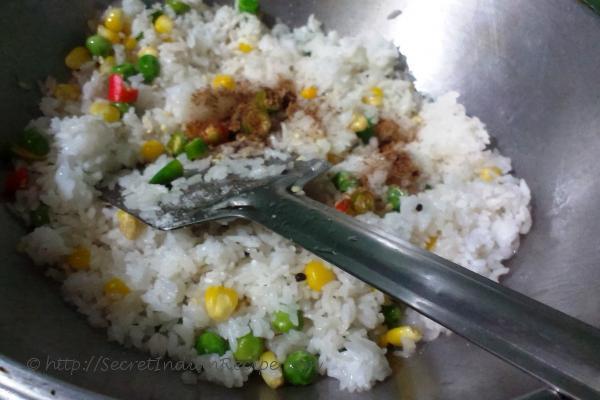 Ingredients:
Cooked Rice - 2 cups
Makke ke dane (Corn) - 1/2 cup
Hare Matar (Green Pea) - 1/2 cup
Cinammon Stick - 1/2 inch piece
Clove - 1
Cardamom - !
Garam Masala powder - 1/2 teaspoon
Ghee - 1 tablespoon
Oil - 1 tablespoon
Salt - To Taste
Chopped green chili - 1-2
Directions:
Boil the green pea and Corn Separately till they are almost done.
Heat ghee and oil together in a pan and add crushed cardamom, cinammon and cloves.As they start releasing their aroma, Add the rice,chopped chilies, green peas and corn and mix. Keep the flame medium and saute for 2-3 mintues.
Add Salt to taste and garma masala powder and mix well. Cover with a lid and cook on low flame for 2 mintues.
Switch off the gas and serve hot with any curry recipe.