Matar Masala (green Pea Curry)
If you travel to Northern India in winter, and get the opportunity to eat their food, you will be amazed to see how green pea is used in almost everything that is cooked. So you may have Green pea Gughni (Green pea stir fry) for breakfast, Nimona (Minced green pea curry) with Rice for lunch and probably Green pea kachori (Green pea stuffed Indian Bread) and Tomato Chutney for dinner…..and the best way is all these green pea preparations taste different. Besides, you can also get Green pea kofta (Green pea dumplings) and Green pea Khichdi. I simply love green pea stir fry and I can have it for all my three meals but sometimes when I need a quick curry, I often go for this Masala Matar.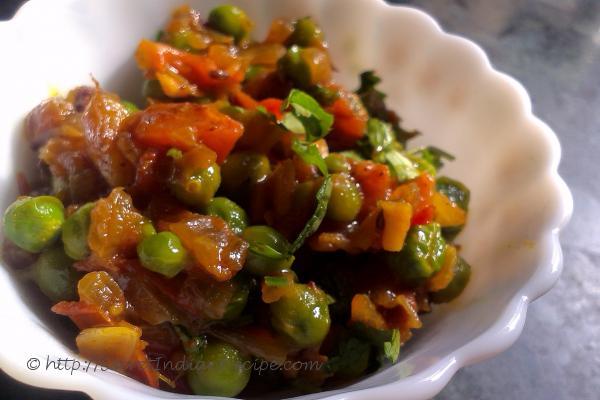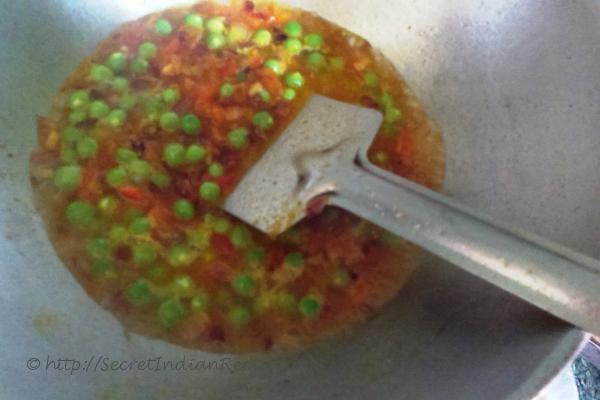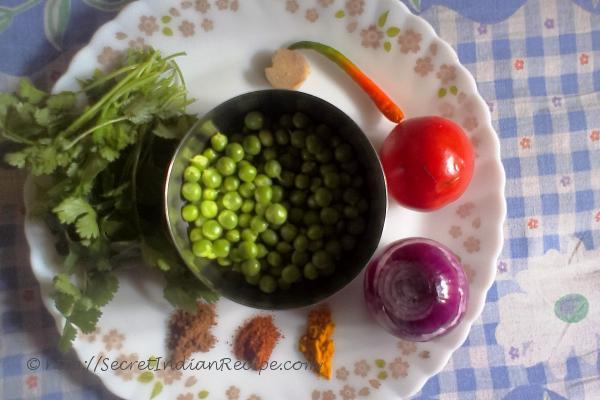 Ingredients:
Matar (Green pea) – 1/2 cup
Onion – 1 medium sized (Chopped)
Tomato – 1 medium sized (Chopped)
Green chillies – 1 Piece (Chopped)
Ginger – 1 inch piece (Chopped)
Cumin Seeds – 1 tea spoon
Red chilli powder – 1 teaspoon
Turmeric Powder – 1 teaspoon
Garam masala powder – 1 teaspoon
Oil – 4-5 tablespoon
Salt – To taste
Green coriander leaves – 2-4 tablespoon (Chopped)
Directions:
Heat oil in a pan and add the cumin seeds. Let it splutter and then add the chopped onions.
Fry the onions over medium heat till it starts turning brown. Then add the chopped ginger, green chillies and tomatoes.
Continue to fry but keep the flame low and wait till the tomatoes are cooked.
Then add red chilli powder, turmeric powder and salt and fry for a minute.
Now add green peas, salt and garam masala and mix.
Add ½ cup of water and cover the pan with a lid. Let it cook on low flame for 6-7 mintues till the green pea turns soft.
Check the consistency of gravy, it should not be too watery. Garnish with chopped coriander and serve hot.