Matar Paneer (peas And Cottage Cheese In Tomato Gravy)
This preparation of matar and paneer is without onion and garlic.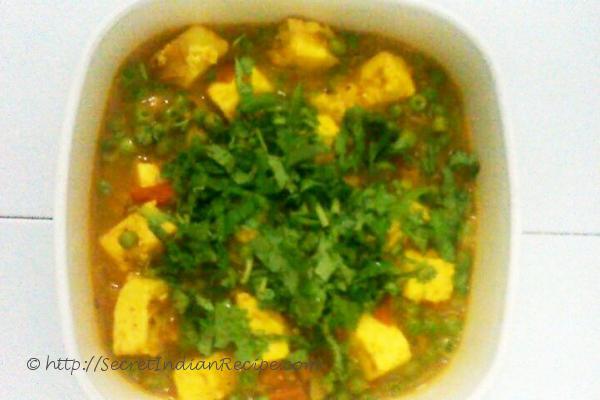 Ingredients:
250 g of fresh paneer or cottage cheese cubes
250 g of frozen or boiled peas
4 big tomatoes
1 inch piece fresh ginger
20 piece cashew nuts
1 tablespoon extra virgin olive oil or ghee
1 teaspoon turmeric powder
2 teaspoons coriander seeds powder
1 teaspoon garam masala
Salt to taste
Fresh coriander leaves for garnishing
Directions:
Soak cashew nuts in water for some time and grind them along with tomatoes and ginger to a fine paste.
In a heated wok or kadahi, put olive oil or ghee, and pour the tomato paste from the blender.
Keep frying the paste till it leaves the pan, and add all the spices(turmeric powder, coriander powder and garam masala).
Add half cup water and mix well. Put peas and paneer in this mixture.
Cover the kadahi and let it simmer on slow fire for 10 minutes.
Once the consistency is fine, i.e., semi-solid, transfer the dish into the serving bowl and garnish with chopped coriander leaves.
Footnotes:
This recipe is useful when one wants the taste of matar paneer but doesn't wish to use onions and garlic in the gravy. Also this requires much lesser oil, and can be eaten even on fasting or puja days.