Matar Rice (green Pea Rice)
Matar Rice is my daughters favorite dish. My daughter's friends enjoy eating too. It is super easy and super tasty. It is my own invention and I have passed it on to everyone in my family. It can be relished with boondi or cucumber raita or potato chips. It is a must try!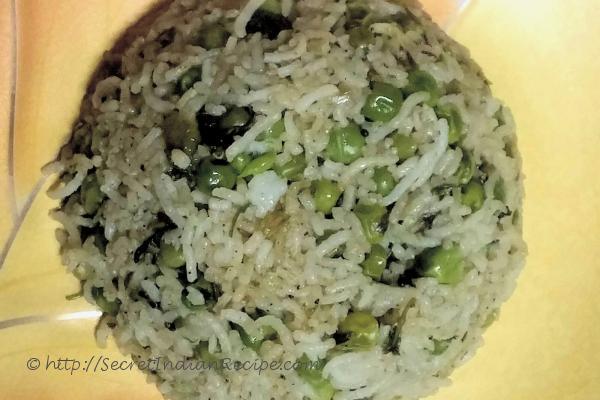 Ingredients:
Basmati Rice: ½ kg
Peas: ½ kg
Green Chilies: 2-3
Coriander (chopped): half a cup
Cumin Seeds: 1 tsp
Pepper Powder: 1tsp
Oil: 4-5 table spoon
Butter: 2-3 spoon
Bay Leaf: 1
Cloves: 2-3
Salt to taste
Directions:
Wash the Basmati Rice till the water runs clear. Soak the rice in water for about 30 minutes and strain it and keep it aside after 30 min.
Heat oil in a large pan and add cumin seeds to it, once the oil is hot. Now, add green chilies to it and mix well. Add the green peas and some salt and mix well again. Cook the mixture till the peas are cooked by covering it with a lid. Make sure that you do not overcook the peas.
Place a large saucepan of cold water over high heat. Add bay leaves, cloves and some salt to the pan. Drain rice, then add to pan and bring to the boil. Strain it when it is almost cooked. Do not overcook the rice. Keep aside.
Now mix the rice to the mixture in the pan and sprinkle black pepper powder generously. Add the butter, chopped coriander and mix well.
Serve hot.