Mathanga Van Payer Erissery (pumpkin Black Eyed Peas Curry)
Erissery is one of the traditional recipe of Kerala. It is made with combination of vegetables and pulses and grounded coconut paste. We use to prepare erissery in Onam sadya. It is a yummy and tasty recipe.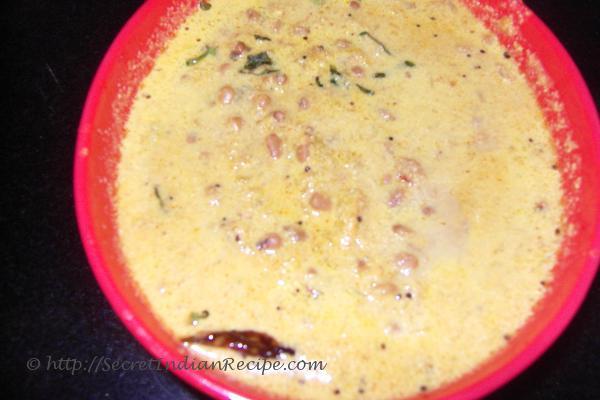 Ingredients:
Mathanga or yellow pumpkin -1 cup
Van payer - 1/2 cup
Chilli - 4
Grated coconut- 1 cup
Turmeric powder- 1 tablespoon
Red chilli powder-2 tablespoon
Dry red chilli- 2
Curry leaves -few
Mustard-1/2 tablespoon
Coconut oil- 1 tablespoon
Directions:
Soak red beans overnight. Pressure cooks the beans with enough water, until cooker reaches to 4-5 whistles.
Add green chilli, pumpkin and salt and cook for some more time till pumpkin becomes soft and tender.
Ground coconut, jeera, chilli powder, onion with little water into a smooth paste and keep aside.
When pumpkin and payer is cooked, add the grounded masala mix to this and boil for some time.
Heat a teaspoon of oil in a pan and add mustard seeds. When it splutters, add red chilies.
Add 1 spoon grated coconut and curry leaves and fry till golden brown.
Pour this tempering and drizzle 1/2 spoon of coconut oil over the gravy.
Serve with Kerala red rice and pappadam.
Footnotes:
If pumpkin is not ripen, then we can add 1/2 teas sugar.
The consistency should be reasonably thick.
If you want authentic Kerala taste, you have to cook with coconut oil.