Matri (dry Peas Preparation)
One of the most common street food of Delhi, accompanied with kulcha or parantha. Simple, low calorie but still full of flavour and taste. It is usually served in leaf 'donas' with a crisp green chilly ....my mouth is already watering.....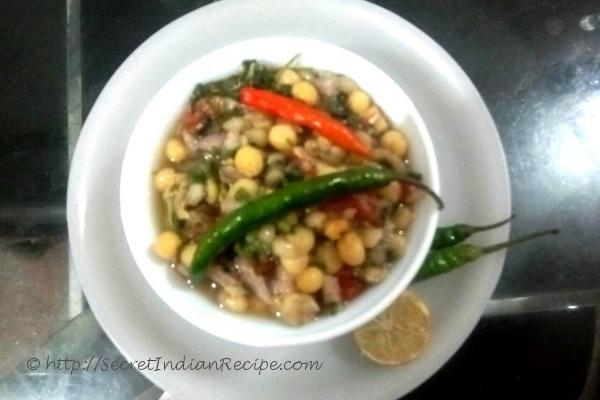 Ingredients:
2 cups White Dried Peas
3 Tomatoes medium sized
2 Onions medium sized
1/2 bunch of fresh Coriander leaves
2 Green Chillies
Juice of 1 lemon
2 tsp Jeera( Cumin) powder
2 tsp Coriander powder
2 tsp Amchoor (Dry Mango)powder
1 tsp Chaat masala
1 tsp Garam masala powder
1/2 tsp Black salt
Salt to taste
1/4 tsp Hing ( Asafoetida)
Julienne of Ginger
Directions:
1. Soak peas in sufficient water for 6 hours or overnight.
2.Drain peas and and add 5 cups of water and little salt and pressure cook peas till 3 pressures are released. Remove from gas stove and let the peas cool to the room temperature.
3. Wash and finally chop tomatoes, green chilies , and coriander leaves. Peel wash and finely chop the onions .
4.In a big bowl take the peas and add chopped tomatoes, onions, coriander leaves, chillies and Ginger Julienne.
5. Then add jeera, coriander, garam masala, chat, amchoor, and chili powder. Then add hing, black salt and salt if required. Finally add lemon juice.
6. Mix everything together gently, and keep in the refrigerator for 1/2 an hour to chill. Serve with kulcha or paranthas.
Footnotes:
1 . peas should be completely cooled before mixing the ingredients.