Mattar Paneer Punjabi (cottage Cheese And Green Peas Cooked In Punjabi Style)
Home made cottage cheese tastes best as it is soft and fresh. This is the secret of my mother's paneer recipes. She makes the paneer at home and so every dish of Paneer tastes awesome. Here is a simple Matar Paneer recipe. You can use Tofu instead of Paneer for a more healthy option.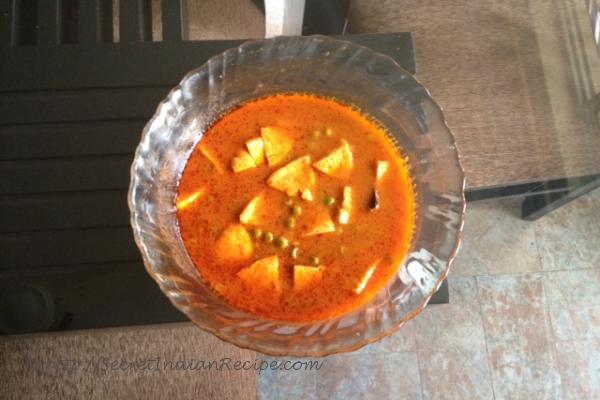 Ingredients:
Paneer/Tofu 500 gms
Onion medium sized 2- paste
Tomato medium sized 2 -Puree
Ginger/Garlic paste 50 gms
Cumin seeds –1 teaspoon
Salt to taste
Garam Masala 1 tablespoon
Red Chilli Powder - 1 teaspoon
Coriander Powder 1 tea spoon
Water 1 glass
Peas-200 gms
Oil/Olive Oil 1 table spoon
Cumin seeds powder-1 teaspoon
Directions:
Heat oil and add Paneer cubes to fry, as they just turn brown from sides, take out and keep it aside.
In the remaining oil, add Onions and saute it till brown. Then add Ginger/Garlic paste and tomato puree.
Add cumin seeds, salt, red chili powder, garam masala, coriander powder and cummin seeds powder.
Saute masala till it is golden brown.
Boil peas in 1 glass of water and add this water and peas to masala.
Bring it to boil and then add fried Paneer and let it cook for 10 min on low heat.
Serve hot.
Footnotes:
Fry the Paneer and dip in normal water. The extra oil will be left in this water and paneer will be soft when added in curry .
Saute the onions nicely till golden brown to get the mouthwatering colour of the dish.