Matthi (salty Snack)
This is a semolina Matthi snack goes well with Tea. It is healthy for children to take in tiffin. Matthi goes well with Ragadhma Aloo.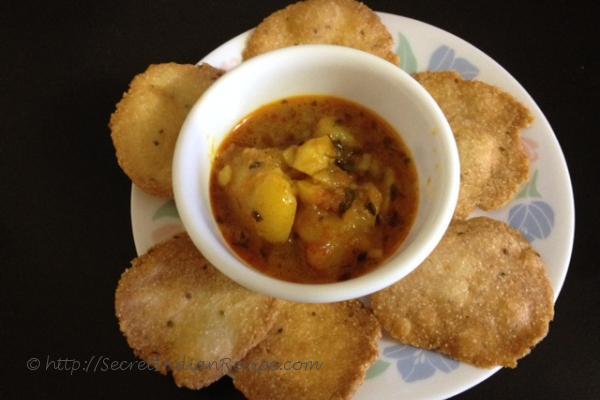 Ingredients:
Semolina- 400mg
Flour(Maida) - 200gms
Oil/Ghee - 100gms
Ajwain -1 teaspoon
Salt -1 tea spoon
Water -warm
Oil for frying
Directions:
Take semolina and Flour(Maida )in a flat bowl sieve it.
Add Salt, Ghee/oil and Ajwain.
Knead with warm water. The dough should be hard similar to that of 'Poori'
Make small balls out of the dough.
Roll the dough balls with the rolling pin.
The matthi shape is ready puncture this with knife so that it does not remain uncooked from inside.
Heat the oil and fry them on low heat till golden.
Footnotes:
Dough should be bit stiff as we do for Poori and the round circle of matthi to be punctured with knine to keep it flat.