Healthy Whole Wheat,samolina And Oats Bread Thandai Mava Gujjya.....dipped In Sugar Syrup...
It is a sweetdish made during Holi. It is made with All Purpose Flour and Mava Filling fried and dipped in Sugar syrup. Here I have given it a healthy twist. I have infused Thandai masala in the Mava filling. It is baked and hence a healthy sweetdish. Happy Holi...
#festiveRecipe
#RecipeContest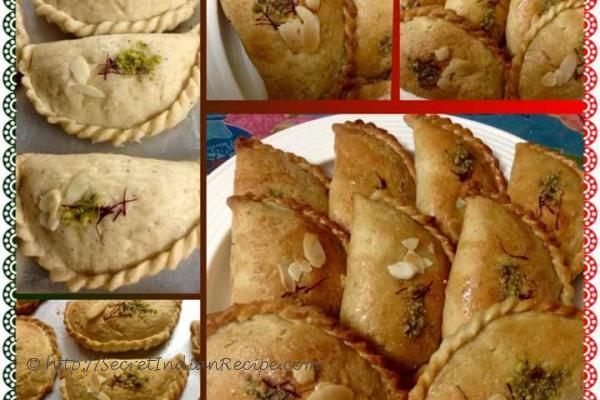 Ingredients:
Ingredients for Bread Gujjya
2 cups whole wheat
1 cup Simolina 
1 cup Oats
1/2 cup Maida
300 ml Milk or more
4 tbsp Sugar
1/2 tsp Salt
2 tsp Dry Yeast
2 tbsp Ghee
Ingredients for the Thandai Mava Filling
250 grams Mava
2 tsp Thandai powder
2 tbsp Sugar
2 tbsp Raisins
2 tbsp Almond flakes
Few strands of saffron
1/2 tsp Cardomom powder
1/2 tbsp ghee
Ingredients for Sugar syrup
1 cup Sugar
1/2 cup Water
Few strands of Saffron
Directions:
For the Bread Gujjiya Mix all the dry ingredients.
Take Luke warm milk mix sugar and yeast. Let it rise.
Make a soft dough with the yeast milk.
If needed add more milk... Add the ghee and knead it for 5 minutes.
Keep it cover till it rises.
For the Thandai Mava Filling Take Ghee and heat it.
Break up the Mava and add to the ghee.
Add cardomom powder, Thandai powder, saffron, raisins and Almond flakes. Mix it.
Keep on stirring occasionally on low flame till the Mava becomes a bit dry and starts to leave the sides of the vessel.
Take of the gas and keep it aside.
For the Sugar Syrup Boil all the ingredients till the syrup reduces and becomes a bit sticky.
For the Gujjyas Take the dough and knead it again.
Roll the dough and cut circles out of the sheet with a cutter.
Add filling and fold one side to the other side.
Press it and fold the edges. Brush the tray with ghee.
Keep the Gujjyas and brush ghee on the Gujjyas too.
Garnish with almond flakes, saffron and Pistachio powder.
Keep it for 20 minutes.... Bake in a pre heated oven for 30 minutes at 180 degrees.
Take it out of the oven and pour hot sugar on the baked Gujjyas and Enjoy.......