Mawa Gujiya
Gujiya is a famous sweet dumplings which are made on holi festival and popular in north and west india. #FestiveRecipe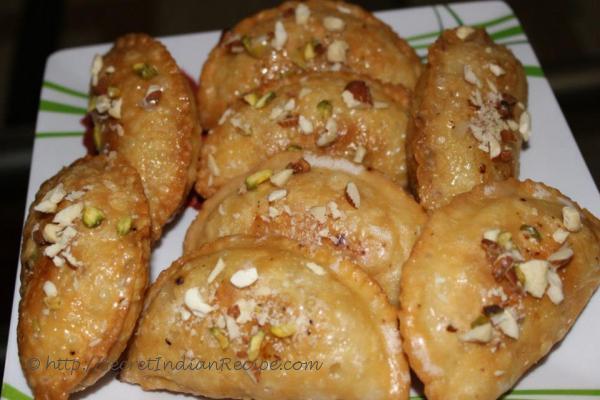 Ingredients:
All Purpose Flour (Maida) – 2 Cups
Ghee – 3 tbsp (for dough)
Ghee – 1 ½ tbsp (for stuffing)
Semolina (Suji) – ½ Cup
Mawa / Khoya – 2 Cups (grated)
Dry Coconut – 3 tbsp (grated)
Cashews – 2 tbsp (chopped)
Almonds – 2 tbsp (chopped)
Raisins – 1 tbsp
Green Cardamom Powder – ½ tsp
Powdered Sugar – 2 Cups (for stuffing)
Oil – to deep fry
Sugar – 1 Cup (for sugar syrup)
Water – ½ Cup
Sliced Almonds and Pistachios – 2 tbsp (for garnishing)
Directions:
For Dough : In a bowl add all purpose flour, 3 tbsp ghee and rub well with your hands. Add cold water and make a soft dough. Cover it with a moist cloth and keep it aside for 15-20 mins.
For Stuffing : Heat 1 tbsp ghee in a pan and add semolina and sauté till it turn golden brown. Add ½ tbsp ghee and mawa in the another pan. Saute till it get smooth. Keep it aside. In a bowl add semolina, mawa, coconut, cashews, almonds, raisins, green cardamom powder and 2 cups powdered sugar. Mix it well.
For Making Gujiyas : Divide dough into small balls. Roll the balls into small puris and put it on the gujiya mould. Place the stuffing in the hollow portion. Apply little water over the edges. Close mould and press gently. Open the mould and remove the extra dough. Deep fry gujiyas on medium heat till they turn golden brown.
For Garnishing : Boil water and 1 cup sugar and make one thread syrup. Dip gujiyas into the syrup and make sure they are well coated with the syrup all around. Place gujiyas on a wire rack so that the extra syrup will drain. Garnish gujiyas with the sliced almonds and pistachios