Mawa Matar (green Pea Curry Flavored With Condensed Milk)
I personally think, Indian cuisine has more variety than any other cuisine in the world. If you take an example of Green pea, we can cook 50 or more recipes from green pea as the main ingredient. This variation is probably due to the fact that our spices are varied. In northern India like Uttar Pradesh and Delhi, our curries have a onion and tomato base along with Coriander, Cumin, Black pepper and Garam masala, In east like In Bengal, people use ginger and garlic and yes some sugar. In Gujarat a hint of jaggery and tamarind is must. In Southern India, the gravy has coconut base. Moreover the original Indian Hindu cooking has gone lot of adaptation due to different change in different political influence like Portugese (Cuisine of Goa), Mughals (The Mughlai Indian Cuisine) and the British (Fastfoods, cakes and pasteries). In Fact, it is sometimes very difficult to point out that a particular recipe is Indian or fusion. Today I am sharing one of the such fusion ' Mawa' Matar' recipe of Lucknow. I guess it is a mix of Indian and Mughlai cuisine.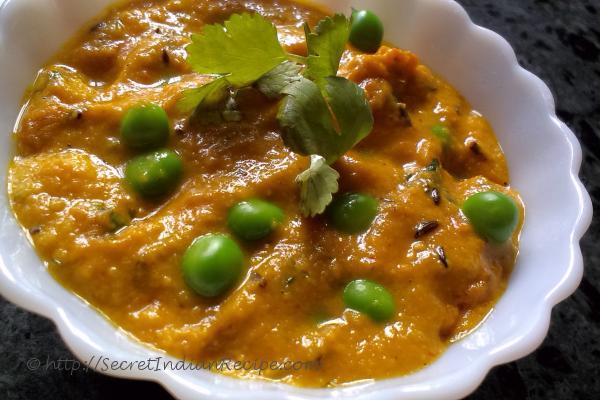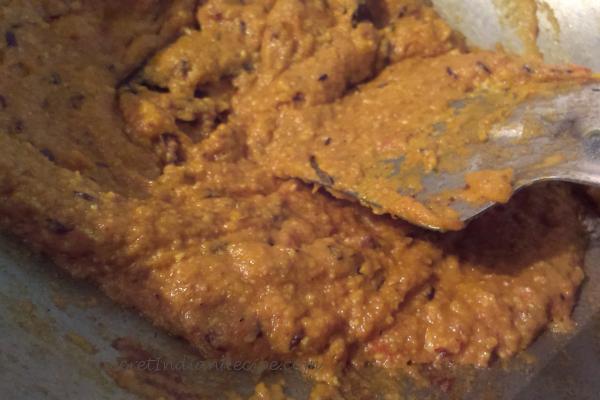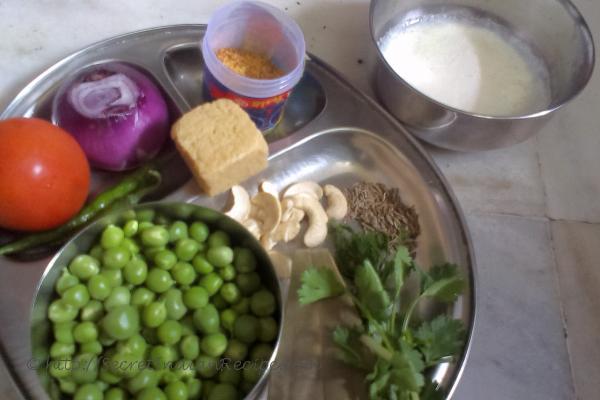 Ingredients:
Matar (Green pea) – 150 grams
Cashew – 10 nos
Refined oil- 3 tablespoon
Cumin seeds - 1 teaspoon
Bayleaf – 1 piece
Hing (Asafoetida) – a pinch
Onion – 1 small sized
Tomatoes – 2 pieces
Green chilies – 2 pieces (Chopped)
Turmeric powder – ¼ tablespoon
Red chili powder – ½ tablespoon
Mawa / Khoya /Condensed milk - ! small lemon sized piece
Milk – ¼ cup
Green coriander leaves - 4 Tablespoon (Chopped)
Salt – As Per taste
Directions:
Boil green pea in water for 5-6 mintues and keep aside.
Put onion, tomato and cashew separately in a grinder and grind into smooth paste.You can soak cashew in some water for easy grinding.
Heat oil in a pan and add hing, bayleaf and cumin seeds. As it splutters, add onion paste and fry till the raw smell evades.
Now add tomato paste, salt, turmeric powder, red chili powder and green chilies and fry till the masala leaves oil from sides.
Now add boiled pea, milk, mawa, and cashew paste and mix. Let the curry simmer on low flame for 5 mintues or till the right consistency of the gravy is reached.
Garnish with Green coriander leaves and serve hot with masala puri or Ajwain paratha.