Meal Maker Fried Rice ( Soya Nuggets Fried Rice )
Soya nuggets fried rice or meal maker fried rice is an easy and quick dish that can be cooked in less than 15 minutes. Soya nuggets are rich in proteins and fibers. Its healthy and tasty and little spicy due to black pepper in it.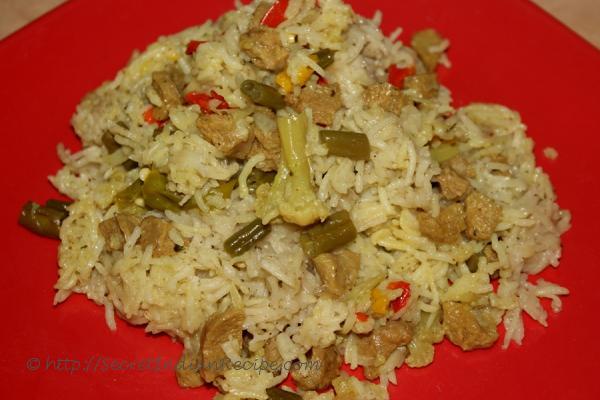 Ingredients:
Basmati rice 2 cups
Soya nuggets 1 cup (boiled and chopped)
Onion 1 medium sized (long sliced)
Cauliflower 1cup(long sliced)
Beans 1 cup (medium chopped)
Yellow bell pepper 1 cup (small sliced)
Red bell pepper 1 cup (small sliced)
Green chilly 2 pieces (chopped)
Turmeric powder 1/2 teaspoon
Black pepper powder 1/2teaspoon
Salt to taste
Rice bran oil 3-4 tablespoon
Water
Directions:
Take a pressure cooker, add 2-3 tablespoon oil to it.
Add onions and saute for 2 minutes. follow it with chopped green chili, yellow and red bell peppers and saute for a mintue.
Add cauliflower, beans and saute for 2 more minutes. Add salt as required and turmeric powder and mix it.
Add chopped soya nuggets and saute for 2 minutes more.
Add basmati rice and black pepper powder, mix well all together.
Add 4 cups of water and close the lid of pressure cooker. Cook till 2 whistles
The rice is ready to be served hot with curd raita.
Footnotes:
For 1 cup of rice - 2 cups of water - 1 whistle.
For 2 cups of rice use 4 cups of water and let it cook up to 2 whistles.
Other veggies like cabbage, carrot, capsicum can be added too.