Meen Mulakittathu (spicy Fish Curry)
Whenever I hear the word fish, the first thing that comes in mind is the hot and spicy fish curry that my mother used to prepare for me. I am going to share this recipe with you. If you like spicy dishes you will surely love it.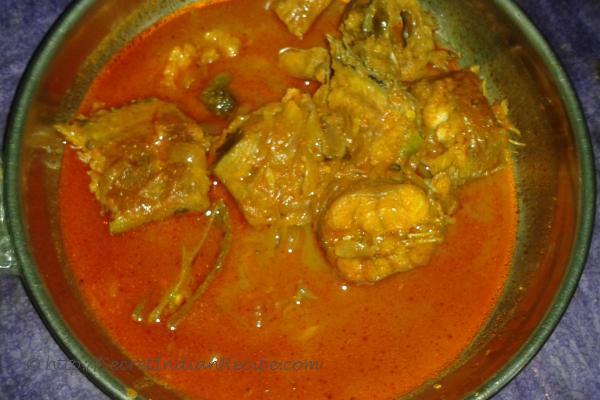 Ingredients:
Fish of medium size-4
Chilli powder-3 heaped teaspoon
Coriander powder-1 teaspoon
Curry leaves-2
Turmeric powder-1 pinch
Malabar tamarind-2 pieces
Oil-4 table spoon
Small onion, chopped - 10 nos.
Chopped ginger-1 teaspoon
Green chilli - 4 nos
Salt-as you need
Water-1 cup
Directions:
First clean and cut the fish into medium pieces.
Place a pan on the stove and switch on the stove.
Add oil into the pan and heat it. (I prefer earthen pot to pan since the curry made in the earthen pot tastes best)
When the oil gets hot, add into it ginger, curry leaves, green chilli and chopped small onion.
Saute it well till the small onion turns golden brown.
Then add into it chilli powder, turmeric powder, coriander powder and salt and fry it for 2 minutes.
Then add water to it along with Malabar tamarind pieces.
Bring it to boil.
Then add fish to it.
When the curry reaches the required consistency and the fish is cooked, remove it from flame.
Enjoy it with rice or tapioca.
Footnotes:
This tastes best when used after one day, i.e., make the curry, keep it untouched for one day and then use it on the next day.
Other Indian Recipes that you may Like !