Meen Pulimunchi( Sour And Spicy Mangalorean Fish Curry)
A typical Mangalorean fish curry that is known for its spicy and tangy flavours. I have added a little kachampuli a coorgi tamarind for an extra flavour. This preparation usually has mackerel though you can use any fish for this preparation. I have used Malabar travelly fish, also known as 'Vatta' in Malayalam. This fish curry is quite similar to the Kerala style except that it has normal tamarind and it grinds all the ingredients into a paste unlike the Kerala style where the ingredients are stewed.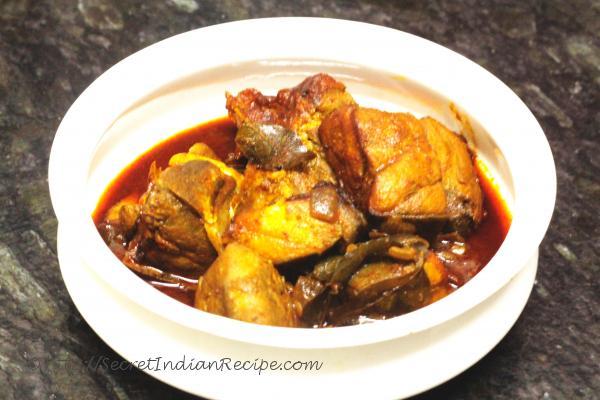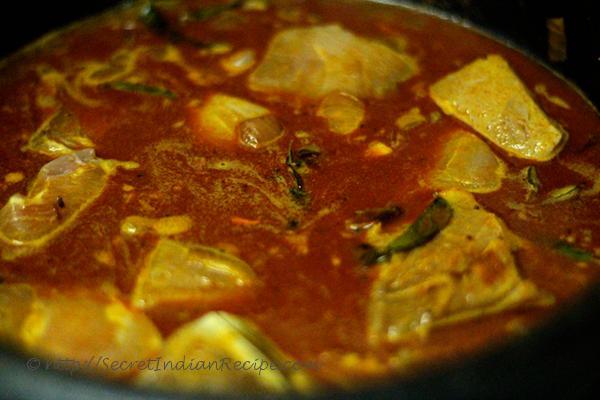 Ingredients:
Fish- 500 g
Onion- 1
Green chilies- 1
Garlic- 7 cloves
Ginger- 1/2 inch long piece
Fenugreek seeds- 1/4 tsp
Mustard seeds- 1/4 tsp
Cumin seeds- 1/2 tsp
Coriander seeds- 1 tsp
Byadgi chilies- 10
Turmeric powder- 1 tsp
Kachampuli- 1/2 tsp
Tamarind extract- 1/2 tsp
Salt- to taste
Curry leaves -5-6
Oil- 2 tsp
Peppercorns- 4
Directions:
Wash and clean the fish. Grind all the ingredients except salt, kachampuli, curry leaves and oil.
In a wide mouthed earthen pot, add the ground paste, salt and 2 cups of water and bring the gravy to boil.
Drop in the fish pieces and let the fish cook for 15 minutes under medium flame. Add kachampuli and let the curry simmer for 10 minutes.
In another pan heat some oil and add the curry leaves and fry till the curry leaves are crisp.
Add the curry leaves to the curry and let it simmer for 5 minutes. Serve with warm rice or roti.
Other Indian Recipes that you may Like !