Meen Varuthathu (kerala Style Fish Fry)
It is one of the crunchiest and most loved dish in Kerala. It is my daughters most favourite dish .So i love preparing fish fries every day.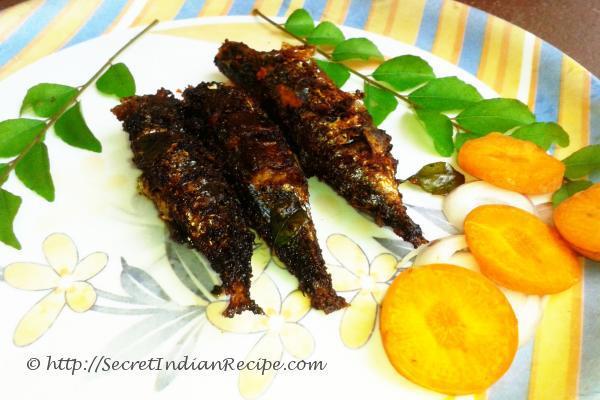 Ingredients:
Fish of any kind -4 medium sized pieces
Chilli powder - 1, 1/2 teaspoon
Ginger paste -1/4 teaspoon
Crushed Pepper -1/4 teaspoon
Turmeric powder -3 pinch
Salt -as per your requirement
Curry leaves -2
Oil -10-15 tablespoon
Directions:
First clean and cut the fish into pieces.
Make sure to make small cuts in the fish so that masalas will enter the fish when marinating.
Mix together chilli powder, turmeric powder, ginger paste, crushed pepper and salt together.
Cover the fish with the above masala mix and keep it aside for 10 minutes.
After 10 minutes, pour oil in a pan.
When the oil becomes hot put the fishes in the oil and shallow fry it.
Before serving, sprinkle the juice of a half lemon over it.
Serve hot.
Footnotes:
It is the favourite of many seafood lovers in Kerala. And is one of the most common fish recipe found all around Kerala.
Other Indian Recipes that you may Like !