Meethi Paratha With Onion Cheese And Capsicum Stuffing
Being a Mother, I always try to give healthy food to my Son. But, Kids do not understand the difference between what is healthy food and what is bad for health. They just eat what they like. My Son likes cheese and capsicum and I often add them in my cooking. Here is my special cheese, capsicum stuffed Meeethi Paratha which I prepare for his evening snack.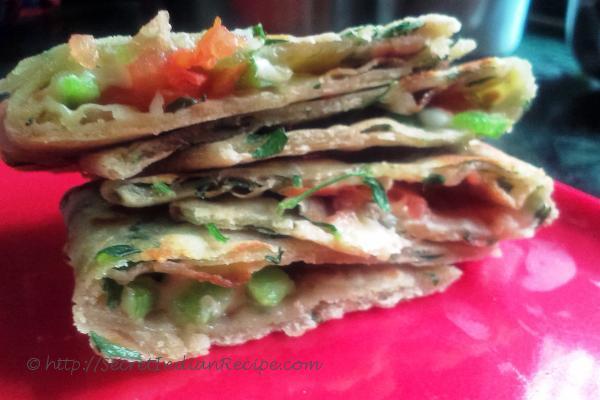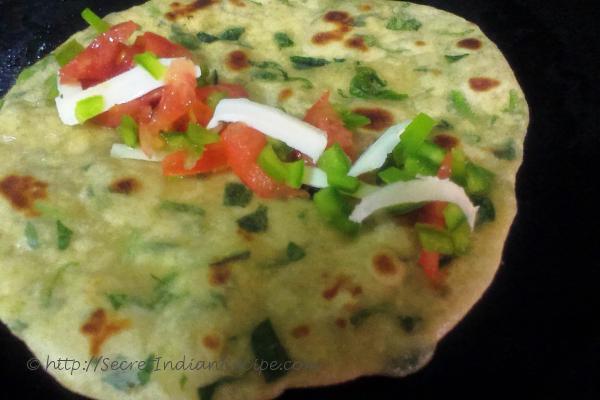 Ingredients:
For Paratha
Fresh Meethi ( Fenugreek leaves) - 1 cup chopped
Atta (Whole wheat flour) - 1 cup
Gramflour ( 4-5 tablespoon)
Ajwain (Carom Seeds) - 1/4 tablesppon
Oil - 2 tablespoon for dough and 4-5 tablespoon for paratha
Salt - 1 teaspoon
For Stuffing
Tomato - 1 small sized
Capsicum - 1 small sized
Cheese - 2 cubes
Directions:
Combine Wheat flour, Gram flour, ajwain, Meethi leaves, salt and oil in a bowl and mix properly. Do not add water now as when you will mix everthing, the meethi leaves will shrink and release their water.
After mixing it properly you can add water in little quanity and mix simultaneously. The dough should not be very soft as it has salt in it and if kept for a long time, it will release water.
When your dough is ready you can chop the veggies for stuffing. Chopp them finely.
Now heat a pan or a tawa on low flame while you cut small balls from the dough. Roll the balls over rolling spin to make rounded paratha.
Put the paratha on heated tawa and brush some oil. Flip the paratha after few seconds ( when one side is cooked well) and arrange some chopped tomatoes, capsicum and grated cheese in the middle of the Paratha. You will find that in the meantime the downside of the paratha also gets cooked.
Fold the paratha in a semicircle and serve it pipping hot befors the cheese will solidify.
Footnotes:
Since cheese is already salted, I do not add any salt in stuffing.