Meethi Aloo Pakora (fenugreek And Sweet Potato Fritters)
We all love Pakoras and specially in the evening. When I was in school, My mother used to make different Pakoras for our evening snack. She would use different vegetables to give twist to her pakoras. One of my favourite was Meethi and Aloo Pakoras . My kids love it too. Sharing this for Kids Fav recipe contest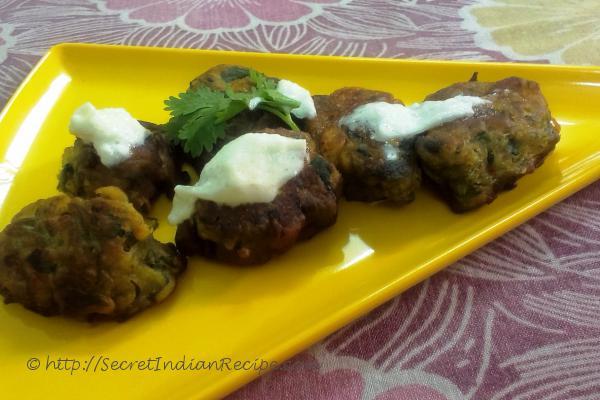 Ingredients:
Meethi (Fenugreek Leaves ) - 1 bunch
Meetha Aloo ( Sweet Potato) - 1 medium sized
Red chili powder - 1/2 tablespoon
Green chilies - 1-2
Ginger - 1/2 inch piece - grated
Salt - To taste
Hing - a pinch
Whole coriander - 1 tablespoon - roasted and crushed
Besan (Gramflour) - 1 cup
Oil - to fry pakoras.
Directions:
Separate the Meethi leaves from the stick and soak it in salted water for 10 mintues. After 10 mintues drain the water and wash the leaves twice with fresh water. Drain the excess water again and then chop them finely.
Boil the sweet potatoes till they are cooked well. Alternatively you can roast it on fire. Once cooled peel it and mash it with a spoon.
Combine chopped meethi leaves, mashed potato in a bowl. Add red chili powder, chopped green chilies, hing crushed coriander, besan, salt and ginger and mix everything . You need not to add water as the sweet potato will help in binding the mixture.If you have roasted your sweet potatoes, then you may have to add some water.
Heat oil in a pan for fryin g pakoras.
Once it is heated put spoon ful of batter in oil. Keep the flame low as the sweeeet potatoes are already cooked and they brown quite fast. Keep the flame low will ensure that meethi and besan is cooked properly. Once the pakoras turn golden brown from all sides, remove on a napkin.
Serve hot with buttermilk.
Footnotes:
My Kids do not like spicy food, so when I make for them I avoid adding red chili powder.