Methi Baida Fusion ( Fenugreek Leaves & Egg Fusion)
This dish was made out of experiment & it turned out to be really tasty.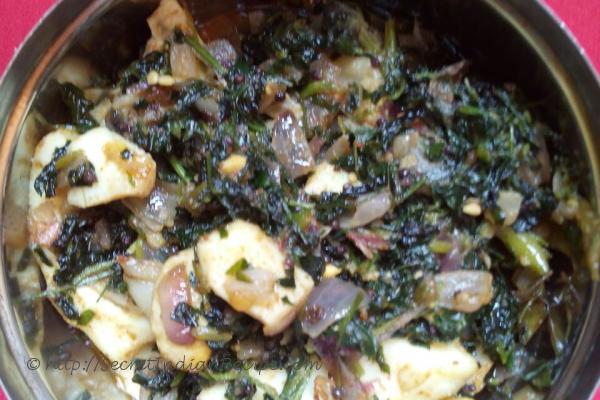 Ingredients:
1 Bunch Fenugreek leaves (Methi) approx. 250 gms
2 boiled eggs
1 Medium sized Onion chopped
3 Green Chillies cut in half
3 Garlic cloves chopped
1/2 tsp Garam masala (optional)
1/2 tsp Mustard seeds
PInch of Hing ( Asafoetida)
1tbsp Oil
Salt to taste
Directions:
Wash the Methi & set aside for 5 minutes. Chop them roughly.
Heat 1 tbsp of oil in a pan or kadhai. Put mustard seeds, once its start popping add a pinch of hing. Add Onions, Chilies, Garlic & stir for two minutes.
Add chopped Methi and salt to taste & mix it well. Let it cook for 5-6 minutes. Do not cover the pan with a lid as Methi will loose its original color.
Cut the boiled eggs in pieces and add it into Methi and mix well. Let it cook of 5 minutes and the dish is ready.
Footnotes:
Cook this dish continuously on a medium flame.