Methi Ke Parathe
Fenugreek leaves are known for their flavor and aroma and is put in various indian dishes for the same reason. Fenugreek leaves are used in both fresh and dry form. Here is a recipe wherein we use fresh leaves. Methi ke parathe is a popular breakfast option in northern India.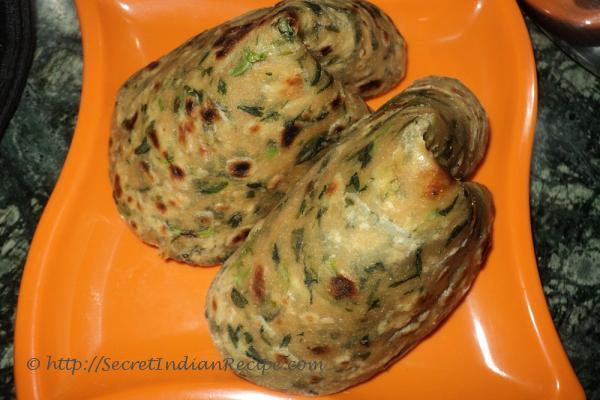 Ingredients:
Methi (fenugreek leaves) 1 cup (finely chopped)
Green chilli 1 piece (finely chopped)
Ajwain (carom seeds) ¼ tablespoon
Salt ½ tablespoon
Atta whole wheatflour) 1 cup
Besan ½ cup
Refined oil 4-5 tablespoon
Butter 1 tablespoon (optional)
Directions:
Put the chopped methi leaves in a karahi or a pan and cook on low flame for a minute. This will dry the water and will make it easier to mix it in dough.
Take the methi leaves in a bowl and add atta, besan, salt ,green chilli, ajwain and 1 tablespoon of oil and mix it well. Add required amount of water and make dough. Please remember taht as it has salt and methi leaves, you require very little water to bind it.
Afterwards take ' chawka and belan and make small round chappati from the dough. Heat a tawa and cook the chappati over medium flame. Apply oil on both sides. follow the procedure till the dough finishes. Before serving apply some butter and serve it with paneer ki sabzi or curd.