Methi Ke Parathe (flat Bread With Fenugrek Leaves)
Methi (Fenugreek) ke Parathe is perfect for Breakfast or even brunch. These Parathas are easy to make as there is no stuffing required. The only time consuming process is cleaning the methi leaves. Although many these days use the frozen packets, but I still prefer buying the fresh methi leaves when in season.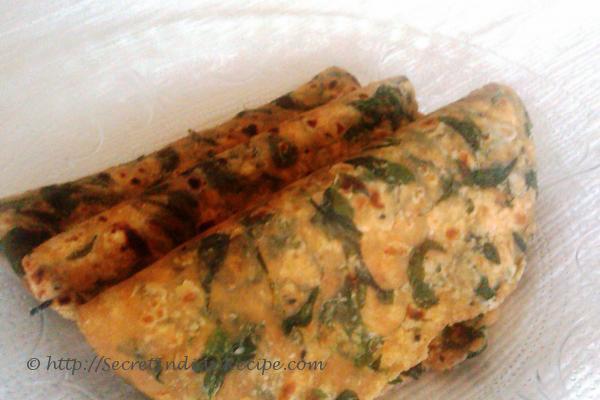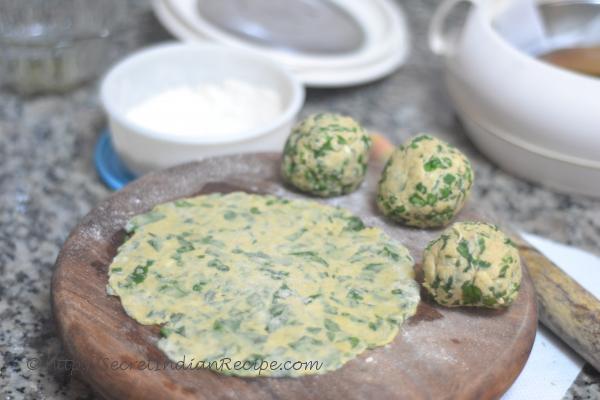 Ingredients:
Wheat Flour - 2cups
Water - to knead flour
Ajwain Seeds (Carom) - 1/2 teaspoon
Oil - 1 teaspoon
Fenugreek leaves washed and roughly chopped - 1 to 2 Cups
Salt- 1 tablespoon
Chilli Powder- 1/2 tablesppon
Turmeric Powder- 1 teaspoon
Oil or Butter for cooking
Directions:
Place the washed and roughly chopped wet methi leaves in a pan or kadhai and cover. Let it cook on very low heat for about 5 mins. (If it burns, sprinkle water). The leaves will leave water and wither. Keep aside and let it cool.
Now mix all dry ingredients like, Flour, chilli powder, turmeric, Ajwain seeds and salt. Add oil and then add the methi leaves.
Start kneading with water (please note that methi leaves may also leave some water, you may need very little water to be added). It should form a soft dough just like for Chapatis. Once the dough is knead, keep aside for 5 mins.
Make equal sized balls of dough. Roll the ball in dry flour and make a round paratha.
Pre-heat a tawa (griddle). Place the rolled flat paratha on the tawa cook on one side and turn it and spread little oil or butter and shallow fry over low heat. Turn it again and spread butter/oil on the other side. Cook both sides till golden brown.
Serve hot with pickle, yoghurt or butter
Footnotes:
You may wish to skip cooking the methi leaves, but this process helps soften the ,methi leaves and makes them easy to roll and manage.